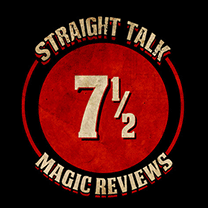 Billed as an opener, you walk up to some spectators while chewing some gum.  You apparently take the gum out of your mouth and stretch it between your fingers and in an instant, the gum transforms from a chewed piece of gum to an fresh stick of gum that has not seen the inside of your mouth.  Then, in a split second, the unwrapped and new piece of gum instantly is wrapped in the original chewing gum wrapper.  If you want, you can open up the wrapper and then take out the gum and eat it right in front of your spectator.
Check out the promotional video as there is a fair presentation of the effect.  If you like the way this looks, and it fits with your personality and routines, then take the plunge because this is a very well made gimmick that lets you do several phases of gum metamorphosis.
The 44 minute instructional video starts off with a demonstration of the effect.  Then, there is a detailed segment in which the gimmick, which comes mostly made, is completed.  The final gimmick construction that you will do yourself will take about 10 minutes at most.  The reason that the effect is not 100% completed before it arrives in your mailbox is so that you are able to customize which gum wrapper you will add to the gimmick.  The gimmick construction is not difficult.  I do have to say that the construction portion of the instructional video is very blurry when there are close-ups of the gimmick.  It does not interfere with your learning of the trick, but it is not top quality production.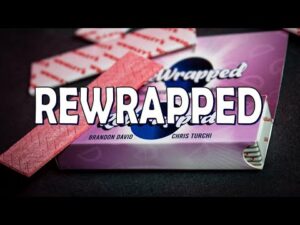 I agree that the trick is a good ice breaker with some easy patter to start off a conversation with your spectators in a walk around situation.  "Hey guys, my gum ran out of flavor, mind if I get a new piece?"  As easy as that and very comfortable.
The actual gimmick is great and impossible to discern that it is not a real piece of gum.  You cannot hand out the gimmick, but why would you hand out your gum to strangers?  My gimmick did need a bit of reparative work and a few touches of crazy glue before I completed the gimmick construction.  Or, in other words, the gimmick was not solidly glues in place.
You are also taught the paddle move, which I have to presume that everyone already knows.
My criticism about the product I received is that the part of the gimmick that allows you to stretch the gum in front of your spectators when you take it out of your mouth is not as thick as a real piece of gum. In fact, the gimmick that is displayed in the instructional video is as thick as a real piece of gum.
The instructional video is too long at 44 minutes and the creators could have cut out some of their sophomoric humor and cheesy jokes and just presented the trick.  Not such a big deal, but I did not need to see the creators pretend to fall asleep during the other's instruction and attemopt to take a photo for Instagram before he wakes up.  They could have skipped their "missing" a high five and the jokes at the end that the video is a "rap"… no a "re-wrap."
The ad copy states:
"ReWrapped is the ultimate chewing-gum life-hack!
Imagine this. You take your old, chewed piece of gum. You stretch it and snap it back into a brand new gum stick. Then, the gum stick visually wraps itself in its original packaging! Now you have a fresh, 100% real gum stick ready for you to re-chew or save for later!
Devised by the creative duo behind "Envy-Lope" and countless other amazing effects (Brandon David and Chris Turchi), ReWrapped allows you to take a familiar everyday object and perform a mind-bending visual chewing gum restoration! Your spectators will think you've discovered a real-life infinite glitch!
Customizable to assorted brands of gum across the world!
Detailed instructions with Brandon and Chris
Resets in seconds
Easy to perform
Takes little pocket space
Perfect for socials and professional occasions
Highly Visual
Restore your gum again and again and again with this refreshing take on visual gum magic!
This is ReWrapped, by Brandon David and Chris Turchi!"
Like I said, if you like doing tricks with everyday objects and want to make a splash opening with a piece of gum, this trick is for you.  With the great gimmick you can present several moments of magic and grab your spectators.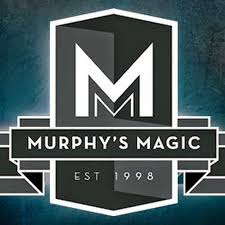 Thanks to Murphy' Magic for asking me to review this fun walk around product.