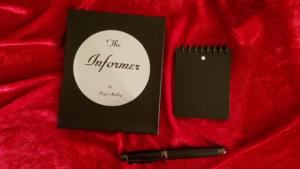 The Informer Impression Pad is a premade writing pad with the gimmick installed and it's ready to go out of the box. If you are buying this, I am guessing that you already know what an impression pad is and how to use it. If you don't know what an impression pad is and you bought it anyhow, you are in for a pleasant surprise.
What you get with your $59.50 purchase (why not just make it an even $60 bucks?) is the pre-made gimmicked pad, a pen that is ready to use to write and re-set, a small thingy to make another pen, and a password to a downloadable low production quality 18 minute instructional video. The pad is 3 inches by 4 inches (almost) and hold paper in a top spiral ring. It is very small and easy to carry around. The outsides of the spiral is made of a durable black plastic material that will not rip and will last forever. When you run out of paper you can refill it by popping open the spiral.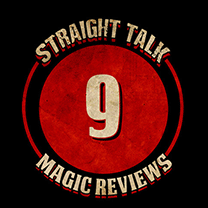 In your performance you can either use the paper in the pad or a post-it note placed on the outside of the pad. It is very easy to use and can be used to "read" someone's mind or to do a spot-on drawing duplication routine. The pad comes with about 35 pages of paper and as stated above is ready to go once you take it out of the black cardboard box. The pen is a large whiteboard pen that has a built in feature that lets the performer reset the impression device in two seconds which can be done in front of your spectators or when walking from table to table.
The impression pad itself has a dark olive color appearance, which is different from many other impression devices that I have; those are gray.
The ad copy really grandiose claims that irk me a bit. Included in the sales pitch is that this device is "high definition and sensitivity, which produced produces super clear quality images with unbelievable versatility. The Informer…will elevate your magic/mentalism to higher levels. There is no impression device on the market that can match the quality and sensitivity of the Informer. It is endorsed by the best magicians and mentalists in the business." It also claims to be working with "cutting edge technology" and "no device can match these capabilities". I do not think the impressions are high definition or that they produce images that are of a greater quality or more super clear than my other impression pads. I also have no way of knowing if this impression pad uses cutting edge technology, but it is sensitive enough to catch an image through at least 10 pieces of paper. I am really wondering who the "best magicians and mentalist in the business" are that have endorsed this product because the ad copy doesn't actually contain any endorsements.  Also, the pen in the picture is not the pen you get with your purchase.
The instructional video is basically an aerial view of a table in which Mobley demonstrates how to use the Informer impression pad, how to reset it, how to refill the pad and he shows the original Informer gimmick which is quite clever. I appreciate instructional videos that get right to the point and do not drone on unnecessarily. I am not distracted by the low production quality of the video because it tells you what you need to know and does so quickly.
I have no problem getting behind this product because it is great. If you don't already have an impression pad, this is one that is appropriately priced and will enable you to read and blow minds at the same time.
I appreciate Murphy's Magic sending me a great product to review so I can test it out and give my opinion and honest review. This can be purchases from any Murphy's Magic dealer across the web!
9 out of 10 ain't bad!