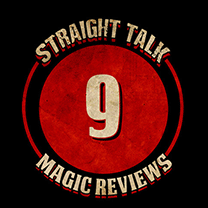 Nitrate by Cameron Francis and Big Blind Media is a brilliant packet trick using 4 playing cards. It is easy to do and totally amazing.
In Nitrate, the spectator mentally picks one of the 4 Kings in a packet of red-backed Bicycle playing cards. From the spectator's point of view, that card is then shown to be the only face-up card among the red-backed Bikes.  Then the cards are counted and it appears that the other three cards are blank.  Then, after another count of the cards, the selected card turns blank and the 3 other Kings appear.
With this $20 purchase you get a paper envelope that contains 4 playing cards. They are gimmicked and cannot be handed out at anytime to the spectators.  You also get a link to a downloadable and streaming 16 minute video.  The video is characteristically excellent of product from Big Blind Media.  They do know how to produce excellent magic products.  The camera work is excellent and so is the editing and the audio.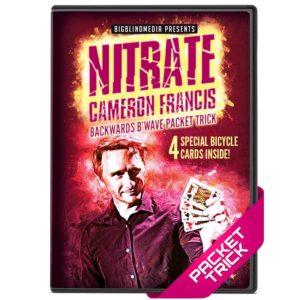 Cameron Francis performs the effect to 2 spectators and then he explains how to perform the trick with the help of Liam Montier. The instruction is quick and easy to follow.  I particularly like this instructional video because Francis does not waste time going over things unnecessarily and he does not repeat himself.  He appropriately, and at the right pace teaches the routine.  At the end of the video he teaches 4 different counts and a basic card move, but you need not use them all.
About the hardest thing you need to do is an Elmsley count, which makes this trick pretty easy to perform. I note that the performance on the promotional video is the same as the live performance on the instructional video and it contains a version in which the chosen King is the King of Clubs.  I think that when the spectator choses a different King the trick looks a bit stronger.  It takes about a second to reset this trick.  As with most packet tricks, you really would not want to perform it twice to the same crew.  Because this trick resets quickly, you can perform this in strolling or restaurant situations very easily.
This trick is really strong and I think it is destined to be a new classic. Cameron Francis does it again!
This great packet trick can be purchased from any Murphy's Magic dealer.