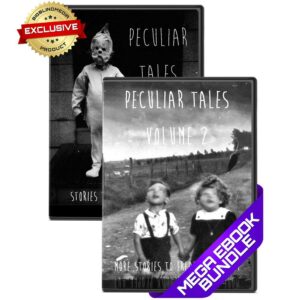 Most likely, you have not seen anything similar to this before in magic. Mark Elsdon is a prolific creator and presenter of both magic and mentalism effects and this effect fits into both and neither category. The two of these products normally sell for $142, but Big Blind Media, with Elsdon's permission is selling the two as eBooks for a discounted price of $52.
What you get with your purchase are a zip file that contains two 16 page eBooks Peculiar Tales and Peculiar Tales 2 (much of the text is the same). They each come with eight pictures. The pictures for the original PT and PT2 are different.
Let's chat about the pictures for a moment. They are weird. They accompany disturbing stories and cause a significant amount of cognitive dissonance when just viewing the photos. Some people will have visceral reactions to some of the pictures because they are so weird and occult. The stories that accompany the pictures are also quite disquieting and they will make you feel uncomfortable. The stories ring a bell in a far off and dark place in your mind.
So what is this all about? Who will like this? When do you perform this? Good questions, thanks for asking. This is not a routine for everyone. Quite frankly these stories are routines for very few performers and select spectators. You need to pick the right setting and moment to delve into this worry-inducing presentation. I have not presented these effects and I won't. This is not for everyone. This is a story-telling routine in which your spectators need to be all-in. They need to be committed to paying attention and listening and investing in the facts and the bizarre tragedy of each of the various stories. They need to be open to feeling varying emotions and strong emotions at that.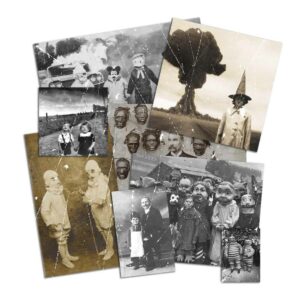 I am not going to reveal the storylines or the plots, but you should know that many of them involve murder, death, misfortune and things that lurk in murky shadows. The common denominator is that your audience will feel uncomfortable and freaked out.
As part of the presentation, your spectators contribute to the story and they somehow know parts of the stories that they could not have known. This adds to the overall effect. Behind this are some fundamental magic and mentalism techniques. The interesting thing here is that your audience will not be looking for or expecting any deception. This does not come across as a magic routine, but as a scary story. I wish Elsdon has included some video footage of the presentation as I am not sure how this ends and where you go when you are done. This is not a stage effect, but a sit-down close up effect in which these are no distractions. Maybe a hell of a way to end a dinner party and let everyone leave watching their backs, running for the car and locking the doors. Good luck sleeping that night.
Big Blind Media has discounted the projected as eBook bundles and their ad copy reads as follows:
"Peculiar Tales by Mark Elsdon – Stories To Freak People Out eBook Bundle
Save 64%
Original Price $142.00 USD
Current Price $52.00 USD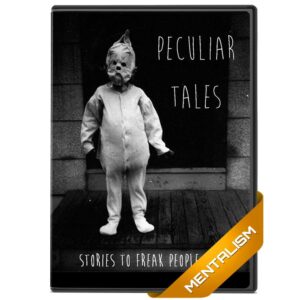 Do you want to genuinely unsettle people with some weird stories? Want to be armed with some utterly baffling mental magic that transcends 'tricks' and enters the realm of the truly uncanny? Then you need Mark Elsdon's Peculiar Tales Volume 1 and 2!
These collections of mysterious and creepy mentalism each feature eight routines with eight accompanying (disturbing) black & white photographs. These aren't throw away magical amusements – they are powerful, gripping stories that people WILL remember.
*** BOTH PECULIAR TALES 1 and 2 WERE ORIGINALLY RELEASED AS LTD EDITION BOOKS (100 and 150 UNITS RESPECTIVELY). THE INSTANT DOWNLOAD EBOOK VERSION (WITH DOWNLOADABLE PHOTOS IN A ZIP FILE) IS A BIGBLINDMEDIA EXCLUSIVE! ***
The BBM exclusive bundle features all 16 photographs from Volume 1 and 2 in a downloadable ZIP file, (so you can print off new copies whenever you need them), and both instructional books in an eBook format. And remember, with just a few photographs tucked in your wallet, you'll be armed to unleash some seriously powerful mental magic
Peculiar Tales Volume 1 features eight creepy, eldritch black and white photos and eight accompanying mentalism routines. Some of the tricks use multiple photos, some use just one… but every routine is as creepy and powerful as it is ingeniously constructed. This is powerful, powerful mentalism that will leave a lasting impression. It was originally available as a Ltd Ed book (100 units) and retailed for £55.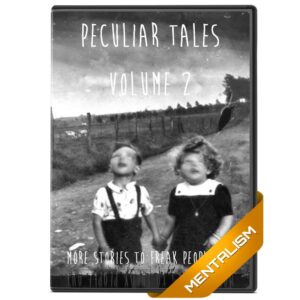 Peculiar Tales Volume 2 features a brand new collection of unsettling mental magic with eight new (and still disturbing) photos to print, and eight killer routines. Whether you prefer to focus on the stories, just perform the tricks or combine the best of both worlds, this material is perfect for this time of year. Long, dark Winter nights will never be the same again! It was originally available as a Ltd Ed book (150 units) and retailed for £55.
*** BBM EXCLUSIVE – Get both volumes and all 16 photographs as printable electronic images for £39.99 (a HUGE 64% discount) ***"
Even though I will not be presenting this myself, I appreciate the thought and construction behind this collection of scary camp-fire stories. What you are buying in this bundle is the thought and crafting of several routines. Those that wants gimmicks and easy-to-do tricks may be disappointed, but those that enjoy producing strong emotional reactions from spectators and that understand what they are purchasing will just "get it".
Elsdon constantly pushed the boundaries of his art and this is a perfect example of how he challenges himself and his followers.
Check it out here if you are interested: https://bigblindmedia.com/products/peculiar-tales-by-mark-elsdon-stories-to-freak-people-out-ebook-bundle