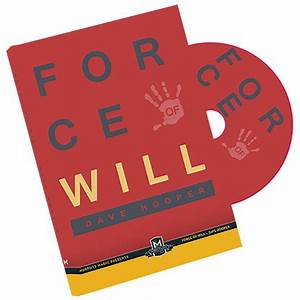 When I first saw this promotional video and superlative ad-copy testimonials, I was very psyched to learn the Force of Will. What a great name too!
And then the DVD arrived.
Boy was I underwhelmed and disappointed. We all know that this DVD is a variation of the classic force, but I thought I would be taught something and felt that I walked away from this 12 minute DVD with nothing more than I learned from the promotional video. Yes, that is right, the entire DVD is 12 minutes! Not 13, not 14, just 12. As a general rule, I think that projects that are 15 minutes or less should be sold as downloads for no more than $10 bucks…unless it is something really special.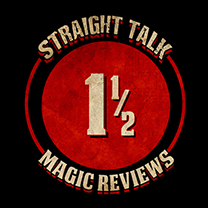 I was very impressed with Hooper's spread. It looks so haphazard, fast, chaotic and flowing. What I was not impressed with was the teaching of the force. I really did not feel that anything was taught that was meaningful. I believe that you can study the classic force for years and still improve. I am always looking to learn more and study different takes on any aspect of the force.
Unfortunately, after the studio demonstration of the force to a spectator there is not much time left to teach anything of value. How much can you learn in 10 minutes? Seriously??!!
There are so many aspects of the classic force worth studying such as how you hold and spread to the break, when you lift your deck, what happens when your spectator tries to mess you up, how to spread so it looks natural, tips to guarantee the timing is just right, how to go slow or fast, where to put the fingers on each hand and so much more.
The ad-copy states:
"David actually fooled me with his force, it was a joy to be fooled." -Doc Eason There are a thousand ways to get a spectator to choose a certain card. Even today, new methods are being brought to light, even as you read this. Yet, one thing has remained constant throughout the years, the pursuit of the perfect force. Dave Hooper has refined his take on the classic force for more years than many of us have even considered taking our card magic seriously… And the result is a thing of pure beauty. "Dave's force is the best I've ever seen. And I've seen many!" – Harry Robson After 35 years of being a professional magician, It is today that he reveals his teachings on what some will call the greatest Classic Force, ever. "He forced the same card on me FIVE times, and it was fair. Every time." -Chris Ramsay If you are struggling with the classic force or are looking to refine and make it absolutely 100% undetectable and effective, then there is no alternative. The proof is inside. "Dave has made all other forces irrelevant. If you're going to learn the force, this is the best. It blew my F***ing mind!" -Kieron Lefever"
While it is true that Hooper's version of the classic force looks awesome and he executes it amazingly, he does not teach it very well at all. He really just demonstrates it quickly and that is it. Hooper does give a few tips in the DVD, but you can learn so much more by searching the internet. Although the DVD only costs $15 (actually $14.95), it just is not worth it. Watch the promotional video and then search the internet for some good free lessons instead.
Again, as for Hooper's skill and talent, he is awesome. I just wish he imparted some of his awesomeness to the purchaser. This DVD is a missed opportunity. This project is not for beginners because they will be in the dark and I don't think it is for anybody due to the fact that this project is so short and so uninformative.
I appreciate Murphy's Magic sending me this product to give my own honest opinion.