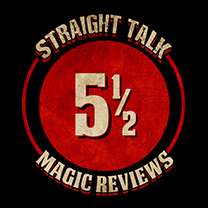 Whacked version 2.0 is a Mark Eldson e-book that explains a book test he created borrowing part of the name from a specific book that you must use. It is a 20 page e-book that explains how to use the book Dave Gorman's Googlewhack! Adventure (Googlewhack!) as the basis for the book test.  With you $25 purchase you get a downloadable booklet and a needed special crib sheet.  You will need to buy Googlewhack! and another small item and you will be set to perform in a parlour or stage setting.
What on earth is a Googlewhack? Good question!  It is two words that can be found in a dictionary that when searched in Google only reveal one result.  This book, Googlewhack! is Dave Gorman's travels related to various Googlewhacks.  The Googlewhacks are very strange Google Whacks words such as "Pomegranate Filibusters" or " Francophile Namesakes" or "Dork Turnspit".  The funny thing about Googlewhacks is that once they are discovered they end up being added to a website and then they can be found in more than one location.  They are light a shooting star that burns out and ceases to exist once seen.
So, like I said, you need to buy the book Googlewhack! which I did online. You can probably buy this book online for less than it will cost to ship it.  The reason this book works for this book test is because it has very strange words, the Googlewhacks, on the top of many of the pages. You also need to buy a certain kind of clipboard, which will cost you just a few bucks.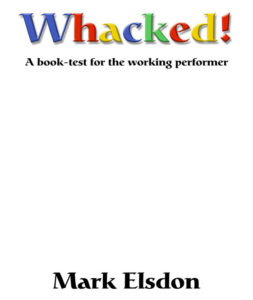 The basic problem I have with this book test is that there are many pages without a Googlewhack on them and that will cause the spectator to look at another page and perhaps see something that makes the trick no so great. Also, when the spectator turns the pages to get to the chosen page (by another spectator) something can be seen that will make the trick less spectacular.  The trick also relies upon the fact that your spectators will rely upon an assumption that makes this routine seem totally awesome.  The script is delivered in a way in which most likely the audience will believe there are endless amounts of Googlewhacks to choose from, but I don't see this always working and you can really crash and burn.
Another issue I had with the book test is the ability to read the crib sheet. My eyes are not that old, but I find I need more light than I used to for reading.  This presents an issue because the crib sheet, which has a very special idea to is, is hard to read.
I hate to say it because I have reviewed so many Mark Elsdon tricks and routines, but I just don't think this one survives the test of time. The book seems old and not like a usual book that someone would have.  Although he suggests manners in which this trick can be applied to other books, I think it is unlikely that will ever happen.
The scripting for the presentation is very clever as you would expect from Mark Eldson and it could kill an audience in the right hands, but overall, I am looking for other book tests to perform.
Thanks to Murphy's Magic for asking me to review this product which can be purchased at any Murphy's Magic online dealer.