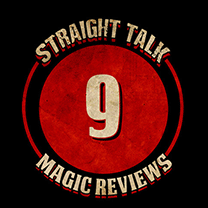 Victorian Coins and Glass is an excellent Kainoa Harbottle routine (brought to market by Kozmo Magic) in which he very magically makes coins appear and disappear from one spectators hand to a shot glass that is on the table during the entire performance. He does one coin at a time and it is truly astonishing.
What you get with your $30 purchase is a specially sourced shot glass. It is not gimmicked in any way, but because it has some special features inherent to the design you would think it was created just for this magic routine. You also get the well-produced instructional DVD.  You do not get the coins and you do not get a common coin-related gimmick which you will need to provide.
The instructional DVD starts off with Harbottle performing the routine to a table with three couples. The routine is really amazing and is very fooling.  Harbottle's patter is his own and it fits his self-proclaimed "nerd" character as he referred to his glasses and "bad tie" and explains his advanced studies in classical magic.  The magic is amazing.  The routine is expertly crafted.  The reactions of the audience is a bit annoying because they seem unnatural and stiff and have what seems to be feigned reactions to the routine and patter.  It sort of reminded me a bit of the old L&L World's Greatest Magic fake audience reactions.  Anyhow, the magic is still incredibly strong.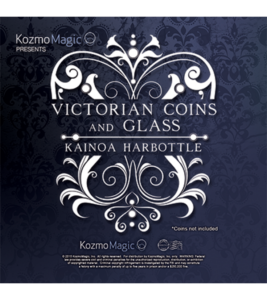 After the performance, Harbottle explains the various phases of the routine in a very straightforward and easy to follow one-on-one setting with the viewer. He is an excellent teacher and the routine is superb, but it will require a significant amount of practice.
Harbottle's performance is not an easy one to duplicate without having some real strong coin skills. Don't be put off because the results will be awesome.  Tons of time and practice are needed here.  This is a real pro routine.  Harbottle breaks down the explanation into a few tracks to facilitate easier learning.  In addition to the various steps, Harbottle teaches tips and real-world advice.  After explanation of the full routine, Harbottle teaches some bonus coin routines that are great.
If you are a coin person, this DVD is a must-have. If you want to watch and learn from a coin-master, this DVD is a must-have.  If you must have the must-have DVD's, then pick up this top-notch piece of coin magic.
Thanks to Murphy's Magic for allowing me to review this excellent trick which is available at any Murphy's Magic dealer.