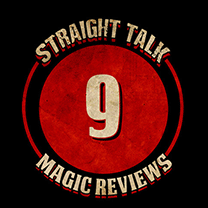 Paul Gertner's Unshuffled Kicker is a classic magic trick with, well, a kicker. More than 25 years ago Paul Gertner came up with Unshuffled, a genius routine that is fooling and fun and totally amazing.  Decades later, when asked to appear on Penn & Teller's television show Fool Us, he performed Unshuffled Kicker and fooled them with a trick that they already knew how to do – at least they thought they did.
With your $35 dollar purchase of Unshuffled Kicker you get an instructional DVD and the "kicker" gimmick that allows you to triple the amazement from the original routine.
The DVD is taught by Gertner and is well done. The hour and 16 minute DVD starts off with Gertner's Fool us performance from the Penn & Teller television show which is absolutely great.  Gertner explains how to do the basic Unshuffled routine and how to make up a dedicated deck that you will need for just this trick.  He explains in detail how to finish the gimmick from rough materials so you can perform the entire Kicker routine.  It is important to note that finishing the construction of the supplied gimmick is not difficult, but if you mess up, you will need to buy the gimmick again.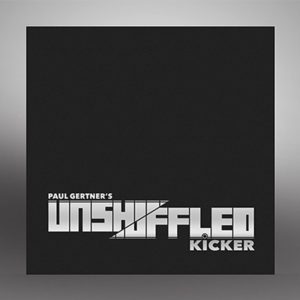 Let's chat about the gimmick for a minute. I had no idea how he performed the trick.  Other than a deck switch, which it is not, I could not even imagine what Gertner did.  When you see the unfinished gimmick, you won't even know what it is until Gertner explains it.  I think this is a really cool piece of magic and I respect and admire what Paul came up with to enhance the original classic effect.
A few words of caution. First, you need to be able to do a perfect Faro shuffle to perform this trick.  You will not be performing this trick, the way Gernter does, after watching the instructional video.  If the Faro shuffle is a challenge for you, this will require some real front-end work.  Penn told Gertner that he never was able to master the trick to perform it to an audience, so, please keep that in mind.  However, Gernter teaches a version of Unshuffled Kicker that does not require any faro ability and allows you to hand out the deck to your spectators for shuffling.  If you want to avail yourself of this method, you will need a table and something special that Gertner created and you will have to create as well.  It is somewhat cumbersome and would really be best suited for parlor or stage (with close-up video) performances.  I would not recommend Unshuffled Kicker for walk around performances for reasons that I have not completely revealed.
If you don't know the Unshuffled routine, this is a great project to learn it from. Gertner's teaching is excellent and I enjoyed watching and listening to his description of the trick.

To be honest, I think that Unshuffled in itself is so strong and so amazing that you do not need to learn the kicker unless you want to fool magicians. It is true that the Kicker version does kick you between the eyes and if you are that kind of magician that wants it all, then you must have Unshuffled Kicker.
This amazing piece of magic is available at any Murphy's Magic dealer.