Man, when I found out that Big Blind Media was releasing Volume 4, I could hardly wait! I keep volumes 1-3 in my "select" library in my bedroom closet (as opposed to the vast majority of my DVD library which is stored in a larger closet downstairs. The first three volumes are great and this fourth edition will not let you down.
So what do we got on this here DVD? Ten tricks, easy to learn, easy to do and many of them worth the price of admission. Some are totally impromptu, some require a set-up and you may even find a gaffed deck in here that is worth the effort. The selections include tricks from John Bannon, Bill Simon, Marin Gardner, Roy Walton, Stephen Tucker, Peter Kane, Michael Breggar, Jack Tighe, Liam Montier, and U.F. Grant.
The production value of the DVD is excellent. Filmed in the Big Blind Media Red room, each trick is performed by one of many BBM regulars, either Liam Montier (mostly), James Wendt, and Jack Tighe who performs his very cool Sorta Swiped. Each trick is performed to some of the BBM regulars and then explained to another magician such as Cameron Francis, Ian Moran or some of the others.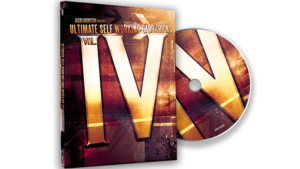 Karmatic is a John Bannon trick that is elegant and simple and very fooling. You may even fool some magicians with Bannon's version of the Trick That Cannot Be Explained. In this trick your spectator mixes up and shuffles the deck and somehow they choose a card that was written down before the shuffling began. Liam Montier presents this as if he is using the Jedi mind power. Montier explains the trick to Cameron Francis and how to jazz your way through this very easy to perform trick. You will need a spectator that knows how to do a decent riffle shuffle and you are on your way. This is a great trick to perform at a moment's notice.
Coincidence by Bill Simon is a trick in which the spectator deals cards from two piles at a time and whenever they stop with one pile, the card in the second pile contains the mate. All other cards do not match. You are able to do this twice in one setting. James Wendt performs this trick which requires a bit of an advance set-up. Although he demonstrates the set-up with cards in numerical order, that is not recommended and he teaches a simple 6 card setup that is difficult to detect, unless you know the specific stack. Once the deck is set-up, you can display all the cards face up on a table.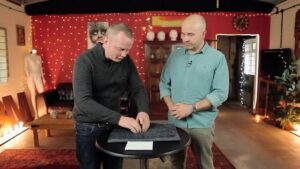 The next trick, Five Nine King, is performed by Jack Tighe and it is a stunning Martin Gardner routine in which the spectator amazingly and inexplicably deals all four of a kind. Tighe explains the trick to Francis after the performance. Again, there is a set-up needed, but trust me on this one… its awesome!!!   Tighe indicated that the dealing originally explained by Gardner does not work and he suggested a work around. Such an awesome trick. I just could not believe that this worked so I did it to myself about 10 times. This is a keeper!!!
Company of Three by Roy Walton is performed by Wendt to two spectators. This trick needs a very simple set-up, which is quick and easy. This is a mindboggling way to reveal freely chosen unknown cards and it is just killer. It is a great two spectator trick. Genius! Keep this in your arsenal forever.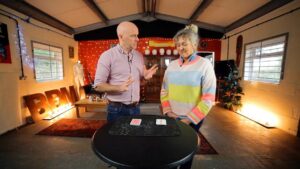 Sorta Swiped is Jack Tighe's very cool trick in which a spectator signs a selected card and it is lost in the deck. Then a "Lucky Card" is introduced. It is a card with a different color back that has the words "Lucky Card" written on its back. The performer then places the cards and the Lucky Card behind his back and indicates that he will slip the different colored backed Lucky Card into the deck and it will land either right above or right below the selected and signed card. When the cards are brought forth, the Lucky Card and the cards on top of it and on bottom are removed. Neither cards are the selected and signed card, but amazingly, the Lucky Card is turned over and not only does it match the selected card, but it is also signed. Every time you do this trick you will obviously destroy one card, but it is really worth it. However, as you may guess, you may want to buy a one way or two way deck to repeatedly perform this trick.
Liam Montier performs Stephen Tucker's Miracle Aces and miraculously the spectator seems to cut to four aces from a mixed and shuffled deck. When he explains the routine to Cameron Francis, he changed the layout just a bit and added some complexity to it. This trick needs a bit of a set-up, but it is a quick flash of cool.
Baker Street by Liam Montier is performed to two participating spectators. Each spectator picks a card from a small bunch and puts it into the other's packet. The performer is able to divine each spectator's card with different method. This is a very strong magic/mentalism trick with cards. Like some of the prior tricks, you need a stack, but it is a very small 5 card stack of any variation.
Third Attribute by Michael Breggar is another great trick. You can do this baby with a shuffled deck without any set-up. The spectator shuffles and cuts fairly and picks a card. Then the cards are shuffled half up and half down and cut and flipped over. The spectator removes a few cards and like reading clues, the three cards help the spectator call out the correct card. Very astonishing. And for anytime and anywhere.
Swindle Coincidence by Peter Kane may be my favorite trick using two freely shuffled decks with two spectators. In a twist, the performer finds two matching cards in a way that cannot be predicted. Really awesome anytime anywhere trick.
The last trick by U.F. Grant is a tarot-like card reading. Three cards are picked by the spectator and amazingly, from another deck the performer picked the same three cards. This is the one trick that requires a totally gaffed deck. Despite the need for the gaffed deck, you may be very pleased to use this. The work needed to set this up only requires two decks and will take about 15 minutes to create.
The ad copy states:
The best selling Ultimate Self Working Card Trick series is the gold standard for sleight-free card tricks… magic that slays audiences and yet requires NO moves to accomplish. The emphasis here is on providing you with KILLER tricks that you just need to concentrate on presenting!
In the five years since Ultimate Self Working Card Tricks Volume 3 hit the streets we have been relentlessly scouring the world of sleight free card tricks, hunting for the holy grail – routines that are absolutely fooling, hugely entertaining, yet just so happen to require no sleight of hand. And this time we have truly hit the mother lode – ten routines that are world class, can be accomplished with no moves and wouldn't be out of place in a professionals repertoire. From Bannon's diabolical prediction routine that sees the spectator shuffle and cut, to Stephen Tucker's outrageous four Ace location, to Jack Tighe's scorching Lucky Card gambit. You are gonna LOVE these tricks.
And remember – literally NO sleight of hand needed. Get ready to rock!
Karmatic by John Bannon – Bannon brings an impossible prediction to the party. Regular deck? Shuffled and cut by a spectator? No problem. They still end up at the ONE card you've predicted in advance!
Coincidence by Bill Simon – A staggering two-phase coincidence routine where your spectator keeps stopping you at the only cards in the deck that match. A perfect demonstration of synchronicity.
Five Nine King by Martin Gardner – Imagine a spectator having a FREE choice of card, and then finding the three mates of their selection, with the deck in their own hands… and with no moves or sleights. This plays BIG!
Company of Three by Roy Walton – Three chosen cards are fairly lost in the pack and produced in increasingly impossible ways, in this multiple selection routine that shows Roy's genius construction.
Sorta Swiped by Jack Tighe – Jack's 'Mystery Card' plot is simple, quick and direct. A signed card is genuinely lost in the centre of the pack, and found by inserting a 'lucky card'. The kicker will knock them OUT!
Miracle Aces by Stephen Tucker – A spectator guides themselves to all four Aces from a deck they cut and shuffled. A clever combination of several subtle principles make this a keeper!
Baker Street by Liam Montier – The ultimate Poker player card trick – two hands of poker are dealt, shuffled, and cards merely thought of from the packets. With no questions, you locate one, and then simply name the other!
Third Attribute by Michael Breggar – Michael's quirky presentation for this classic method will fool EVERYONE – even magicians! There's so many red herrings, they'll never catch you out!
Swindle Coincidence by Peter Kane – From two shuffled, regular decks, your spectators freely choose two random cards, and reverse them in their decks. When you spread them out, they don't match… but instead, reveal an incredible coincidence that seems beyond ALL control!
Card U Reka by U.F Grant – A new presentation breathes life into this vintage effect. You give a spectator a 'reading' on three genuinely freely chosen cards, representing their past, present and future; and then show that you knew what would happen all along…"
For those among us that are looking for some additions to our trick repertoire, this is a great resource. This DVD as a whole is totally f'ing awesome and I predict that this will be one of Big Blind Media's best selling DVD's ever.