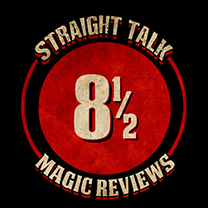 Triple C is a special deck which allows proficient card handlers to perform real miracles. Although the deck is gimmicked, it can be handed out and it will be near impossible to detect the special properties built into this deck.
Above I said that "proficient" card handlers are able to perform real miracles because this trick is not for beginners. This is not easy to get down and will require substantial practice and skill of the performer.  I love this idea and how Engblom uses it.  It is totally deceiving and will fool magicians.  The issue is the amount of work that needs to be invested to be able to pull this off.
With your purchase of Triple C ($30) you get a Bicycle backed deck produced by the Expert Playing Card Company and the United States Playing Card Company. You also get a link to 12 downloadable files; 11 videos and 1 pdf. Having 12 files to download is annoying and I would have preferred one file.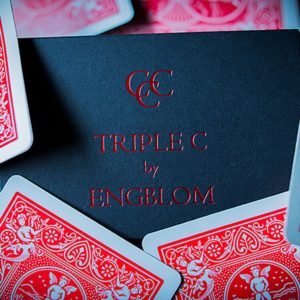 The first downloadable file has a demonstration of three tricks performed by Engblom in a noisy café. He first performs the Poker Demo to his friend Tenho, then the Name Spell trick and then the He Knows trick to two spectators.  The background noise is significant and distracting and the production quality of this track is mediocre.  However, the tricks themselves are incredible – like real magic.  In the second file, Engblom explains the history of the trick and specifically that he is not the only inventor.  After he had shown a friend this trick, he was advised that something similar existed in magic literature.  With the assistance of Max Maven he explained that he located the same method from 1913 and 1914 and even from the 1800's.  However, he attests that he came up with this method independently and has kept this a secret for 24 years – until now.  Notably, this second track, like the rest of the tracks has Engblom seated behind a table in a studio setting with no other people or distractions.  The audio is better than the first track, but it is apparent that no professional microphones were used and the quality leaves a bit to be desired.
Engblom explains that the Name Spell trick is his go to trick and credits Lennart Green for a type of card and deck control. This trick requires excellent card handling skills, guts and top-notch thinking on your feet skills.  Once performed correctly, it is real magic.  He also explains that the Poker Demo is a trick that he uses to fool magicians all over the world. Even when you know what he is doing, he fools you.  The move is invisible!  The He Knows routine is an amazing routine in which one of the spectators becomes the magician and is able to read the mind of the other spectator.  I love this!  It is amazing!!  It won't always hit, but Engblom says 99 out of 100 will!  I think if you choose your spectators wisely it will hit 100% of the time.
Engblom teaches how to perform with this deck using a certain technique and claims that it will take 2 hours of practice. I think it will take many more hours than that even for experienced card workers. The deck comes with two secret features.  Using the first feature can be difficult, as described above, and I found it difficult to read the cards using the second secret feature.  Maybe my inability to see without reading glasses has a lot to do with it.  When using this deck you will need to watch your spectator and how they handle the cards, but Engblom explains how to deal with a common issue that can up when a spectator messes you up (without them realizing it).
Engblom takes his time to explain why this deck is better than other decks like the stripper deck and takes a few moments to extoll this decks virtues. He also suggests that you practice a lot and have much patience, which as stated above, you will need.  He also suggests that you email him with any questions.
There is the possibility that the deck can become inoperable due to the spectator doing something unexpected and he offers a way out in that event.
The promotional video has an introduction by Juan Tamariz and it contains high quality video which shows snippets of live performances. I wish that the instructional video was as good as the production value of the promotional video.
In rating this trick, I take into account the poor production of the instructions, the difficulty in learning it and the level of incredibleness of the tricks. Even with the negatives discussed above, if you are up to the challenge, this is an amazing product.
Triple C is available at any Murphy's Magic dealer.