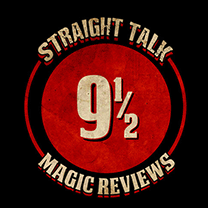 Joshua Jay and Vanishing Inc.'s Triad Coins is a powerful tool to use in any strolling or close-up setting that enables you to produce or vanish 3 coins from thin air.
As described in the ad copy, Triad Coins pitches its product as follows:
"Imagine what it would look like if you could REALLY vanish coins into thin air. Then watch this trailer. THIS is how it would look. No funny moves. No fast motion. No camera edits. You roll back your sleeves. You show three coins. One by one, they just… disappear. Triad Coins is a revelation in coin magic.
Triad Coins is a double-shell and coin system that allows you to produce, vanish, or change three half dollars at will. You can show BOTH hands entirely empty after the last vanish, and perform the effect in short sleeves. Joshua Jay has honed this miracle over a ten-year period, and the result is an elegant, smooth, and extremely deceptive routine, possible ONLY with Triad Coins."
So, it is no secret that you get two coin shells.  You also get a third specially milled coin that can be handed out.  The gimmicks are excellently crafted and come in a great solid plastic carrying case.  You also get access to a downloadable or streaming 16 minute instructional video.  The instructional video is taught with perfect detail and clear instruction.  The entirety of the video is taught by Jay who is standing in front of the camera in what looks like a part of his apartment.  There are no live performances which is a shame because the reactions to the taught routines are incredibly strong.  The only criticism I have about the video is that it does not teach what to do when your gimmicks get stuck because they are nested together in the wrong direction.  The answer however is simple – you need 2 tweezers and you will be able to separate the shells.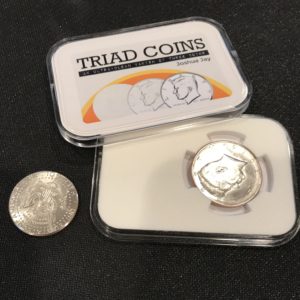 When performing with the Triad Coins gimmicks, you need to make sure your spectators are standing in front of you due to angle issues. Anyone that has worked with shells before will feel comfortable with this restriction.  Once the performance is over and the coins have vanished, you are instantly reset to perform to a new group of people.  You may need to make sure you are not in a super quiet environment because you may hear the gimmicks talking.  The routines are easy to learn and you can start performing almost immediately.
The promotional video for Triad Coins shows how amazing the vanishing routine is as Joshua Jay performs the vanishing routine while walking on the street.
At the time of the writing of this review, Triad Coins is available in US, Euro and UK coins.  It retails for $59.95 which I believe is a great value for what you get.  Triad Coins is the highest quality and must have for any coin worker or enthusiast from beginner to pro.
You can purchase this great product at any Murphy's Magic dealer.