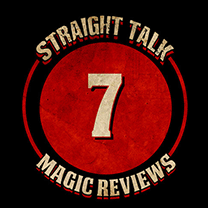 With your $29.95 purchase you get the Tint gimmick and a password protected link to a 19 minute instructional video.  With Tint, you will be able to change a tuck case from blue to red or from red to blue.  The gimmicks are sold with each option.
Once you receive your Tint gimmick, you will need to complete the construction of the gimmick with your own deck of cards. It is easy and should take 3 minutes to complete.
The instructional video is taught by an instructor with a heavy accent, although you will understand everything just fine. The video is missing live performances to real audiences and this would have been helpful to demonstrate angle sensitivity.  There is significant angle sensitivity here and you will need to be very cognizant of where your spectators are and how you are handling the deck.
While this trick is not a routine, it is an impressive start to any card trick. The color change happens very quickly.  You will not, without some clean-up, be able to hand out the deck.  But, the clean-up is taught and quite frankly, I could do without it.  I would use this trick and skip the clean-up, just quickly put the tuck box on your pocket.  I think that the handling and the move needed to change the box from red to blue (or blue to red) will make your spectators curious and want to see the box.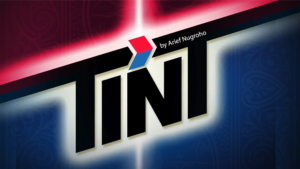 The ad copy for Tint says:
"Imagine showing a deck of cards in its case – and suddenly the case changes colors – on both sides!
Here's a color changing effect with the tuck box. It happens with a simple, yet acrobatic move. No switching needed! And, the box can be handed over to the spectators for examination.
Most importantly, it requires only seconds to set up.
TINT is the clean color changing effect – it can be followed by your suitable card routine immediately. Give your card routine a strong color-changing tuck box effect right from the start!
TINT is the color changing effect you've been waiting for. And take note of this; everything happens using a real, examinable playing card tuck box.
Features:
– Special TINT gimmick
– Only seconds needed to reset
– Uses a real playing card tuck box
– Simple method and uses only a simple move
– Includes a strong, yet simple, recommended routine
– Detailed tutorial on how to perform this miracle, and how to maintain your device
Made with the standard of excellence by Tjiu Magic, creator of "Cross" and "Leap." "
Although the move is simple, I would recommend practicing it in front of a mirror before you try real spectators. It is not hard, just will require a little bit of practice.  Due to the angles and not being able to hand the box out immediately, I will likely not use this one-off trick very often.
I do like the visual nature of the instant color-change tuck box and this is a good start to any card trick, especially a color changing deck routine.
This trick is available at any Murphy's Magic dealer.