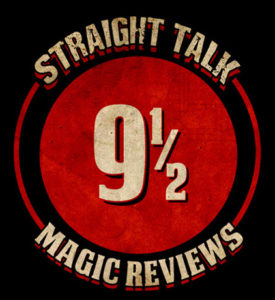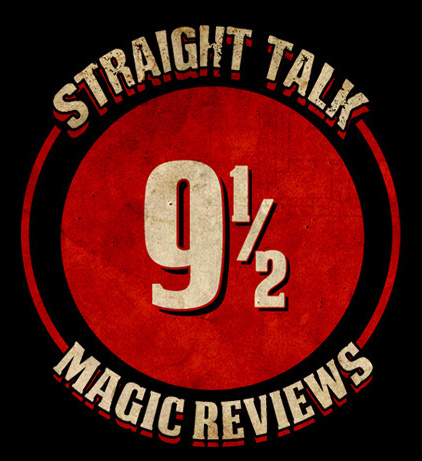 The Birthday Deck is a wonderful gift and you don't have to wait for your birthday to pick this up.  Inspired by Cameron Francis's Red Hot Prediction (also a totally awesome trick), this trick will knock the pants of any spectator.
Your pectator tells you their birthday and you deal down cards from a blue backed Bicycle deck to match the birthday.  So, for instance, if the birthday is June 9th, you deal down 9 cards face up to match the date (the 9th) and then deal down 6 cards to match the sixth month, June.  Any birthday will work.  You take the top card of each pile, which have been dealt face up from a face up position, and when you flip them over and they are to the spectator's amazement, RED BACKED cards that have words written on them "JUNE" on one and "9" on the other.  Any date works, anytime and repeat it with a quick reset.
Liam Montier teaches this very easy to perform trick, which requires no skill and only a 5 minute one-time set-up.  The deck cannot be handed out to any spectator for inspection.  Although the deck is gimmicked with a few special cards, the spectators will not know if when performed correctly.  It is easy to learn and easy to perform and REALLY PACKS A LARGE KNOCK-OUT PUNCH.
Montier teaches the routine with a cold reading of the cards, like a tarot card reading and then flips the cards over for the finale.  I have seen alternate presentations in which the cold reading was eliminated and it was still a very strong presentation.  Everyone can find their own patter and delivery and it will no doubt kick ass no matter how the trick is presented.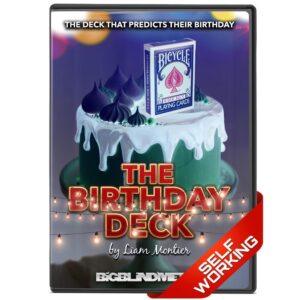 The trick resets in a few seconds and you really should not have anyone standing behind you when you are performing this trick.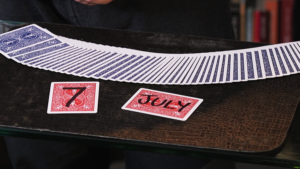 This trick is amazing and if you like the presentation on the promotional video, you will love this Montier/Big Blind Media collaboration!  Well done guys – AGAIN!