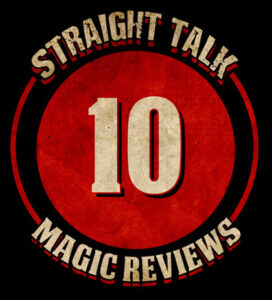 I just don't what to say about this beauty!  This is an awesome trick and Big Blind Media is they are giving it away for free. THIS MUST BE A MISTAKE!  This should be selling for $10 alone, but BBM has always done things their own way and maybe when you go to their site, you will see something else that tempts you.  Imagine that John Bannon performs and teaches a Simon Aronson trick that he helped with eth finishing touches!
The ad copy for the trick says:
"Simon Aronson was some magician. He was a prolific creator, a wonderful mindreader (his act alongside wife Ginny was a marvel) and a longtime member of the fabled Chicago Session alongside John Bannon and David Solomon. When he passed in 2019 magic lost one of the greats.
On Saturday 18th September a memorial for Simon took place at the Magifest Convention in Ohio. It was a chance for friends, fans and family to remember him and celebrate his contributions to magic. As part of the event John Bannon presented a trick of Simon's called 'Tarnation'. It was something that Simon had been working on and never got to finish. John filled in the missing pieces and completed the routine and taught it to those at the event.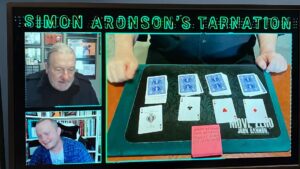 And he wanted to pass it on to you too!
You can download, watch, enjoy AND learn this typically brilliant bit of Aronson chicanery for free courtesy of John Bannon and Bigblindmedia.
"This novel presentation is a phenomenon, wrapped in an astonishment and then rolled into ultimate bewilderment—a real brain-gasm!" Jon Racherbaumer
"You may call it 'Tarnation;' your audience will use stronger language when they realize how badly they've been fooled at every step." Steve Friedberg
"Simon was one of magic's Great Minds, and "Tarnation" reminds me of the kind of trick you'd discover in the back of an old magic book, tell no one about, and perform for the rest of your life." David Regal
"Tarnation is a really fun fooling effect to perform. John handles Simon's trick expertly." David Solomon
"I consider John Bannon one of today's greatest creative minds in magic. The thoughtfulness of the structure of all his effects is something to behold." Howard Hamburg"
If you are looking for something to do aside from the same old tricks, then check out Tarnation.  I can't believe that I forgot about this trick and I stumbled across it again and I am once again thrilled.  It's like Christmas morning all over again (or Hanukkah).
The part about this trick that I love is that there are three moments of magic and surprise, the trick has a sense of humor and it can be done with any deck of 52 cards with a minimal setup that you can do in front of your spectators.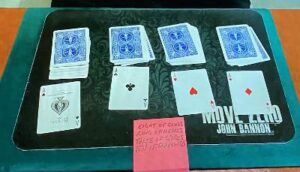 So, the trick presents as follows:
First the performer shuffles a deck.  He then writes an open prediction of 4 random cards on a note on your table.  Let's say it is the Eight of Clubs, the King of Hearts, the Three of Spades and the Ten of Diamonds.    As the performer does an overhand shuffle, the performer tell him where to stop (and the magi truly stops at that point) and does so several times until there are 4 piles.  Excited to see that the top card on each pile will match the open prediction, the cards are turned over one at a time and the unlucky magician sees that he didn't hit a single card.  Instead, the spectator's 4 piles reveal all 4 Aces.  Magical Moment #1.
Then, the performer loses the Aces in the deck and shuffles and tries to find the Aces for a second time.  The spectator picks and eliminates various piles until a small pile is left.  The remaining cards are dealt into 4 piles and when the top cards are turned over, they are NOT the sought after Aces, but the 4 cards written in the open prediction!  Magical Moment #2.
The magician then turns over the top cards on the 4 piles and they are of course the four Aces; Magic Moment #3.
The trick is performed by John Bannon to Liam Montier who is on a video conference.  Montier is in his own library and Bannon is in his own space.  Even though they were in different countries, the presentation was seamless.  This trick is great for virtual presentation as well as in person.
The instructional segment is about 10 minutes long and Bannon explains it to Montier.  Bannon shared an old picture of him and Aronoson and said he was so surprised by this trick how "devious and underhanded" it is.  He quickly walks through the simple set-up and then explains how he convinced Aronson to take the trick in a certain direction.
The trick is really easy to learn and really easy to perform and I find it to be quite fooling.  This trick sort of knocks you off balance and then you get hit.  So wonderful.
Thanks to Big Blind Media and John Bannon for sharing this beautiful piece by the late Simon Aronson.