If you have forgotten about how powerful a svengali deck could be, this is the perfect opportunity to remember. What you get with your $19.95 purchase is a specially cut svengali deck. The cards are cut on all sides and corners so you can cut or dribble from any angle. This is new and great. With a standard deck of svengali cards, more often than not, your spectators will not cut the cards in a way that you can force the force card. This deck solves that problem.
With this deck you can feel comfortable allowing your spectator to do cuts from the table without fail. Of course, with any svengali deck, they cannot hold or examine the deck, but that is part of the deal with any svengali deck.
You also get a 24 minute instructional video that teaches you some basic history and basic routine. The instructional video is very clear and easy to follow. It also teaches a great ACAAN effect and a sandwich effect that I have never seen before.
Also noteworthy about this deck is that they are custom cut with great care. The long cards are not perceptively longer than the short cards. Any magician can see a svengali deck from a mile away. This deck solves that problem. While you can get a standard Bicycle svengali deck for under $10, it will not have the same utility, cuts and appearance. This deck is worth the extra couple of bucks.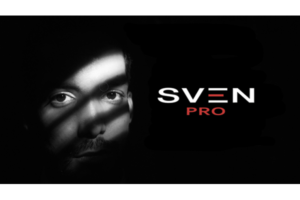 The ad copy states:
"Suit&Tie Magic kicks off their world-wide product debut by perfecting a classic in card magic! Presenting the Sven Pro! The gimmicked deck like you've never seen it before!
It's difficult to reinvent a classic–especially one as solid as the Svengali deck–but teaming up with Invictus Magic, Suit&Tie has done it! Delivering the world's smallest cut (to date) in this type of deck!
Expertly crafted with the working magician in mind, these cards are precision-cut to bring magicians the Svengali deck the way it was meant to be made.
Suitable for beginners and professionals alike, these decks boast the best handling on the market!
And did we mention that they handle sideways, too?!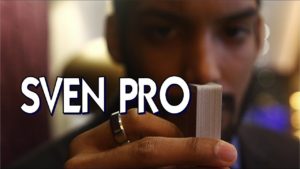 Includes:
– Professional-grade Svengali deck
– Full step-by-step, detailed instructions, with everything you need to know, from the very basic handlings to advanced routines
Mind Reading Effect
Prediction Effect
Card to Impossible Location
Ambitious Card with Variations
Acaan
Svenwich
Finger Tip Change (Our Favorite)"
I never thought I would enjoy using a svengali deck as much as I do this one, but the Sven Pro has proven me wrong. It looks great, handles great and is worth every penny.
Big thanks to Murphy's Magic for asking me to give my honest opinion to this great update to an old classic. The Sven Pro is available at any Murphy's Magic dealer.