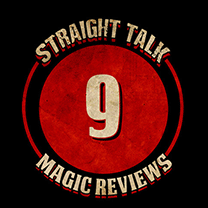 Spell-O-Matic by Liam Montier and Big Blind Media is a knock out trick!  These guys know how to put out great magic and Spell-O-Matic proves that they have the secret formula to the special sauce under lock and key.  I am coming back to this restaurant!
So, what pray tell is Spell-O-Matic?  Hmmm, maybe it has something to do with spelling?  Ding! Ding! Ding!….WINNER! Yes, it is a spelling trick with cards.  One spectator names a card and your spell the name of the card (kind of) and there it is at the last letter.  Then another spectator names any card and you instantly repeat the trick.  Then the two spectators create a card as one names a suit and the other a number and you spell out to that card.  Then each spectator picks a card and combines the suit and value and the performer spells the name again.  Totally Amazing!
With your $25 purchase you get a somewhat special deck of cards and a 23 minute password protected downloadable Vimeo instructional video that is taught by Liam Montier.  The instructional video is excellent as is the production quality.  The video starts with a live performance to two spectators which is really amazing to watch.  Montier teaches the trick which is easy to learn.  I would recommend a bit of mirror practice so you get the touch and feel of the trick down before busting it out to an audience.  It is not hard to perform, but needs a tiny but of rehearsal.  Mastery of the Charlier cut is not mandatory, but highly recommended.  You also get a tiny hand out with written instructions, but because the print was so small and I had already watched the very informative instructional video, I skipped the written instructions.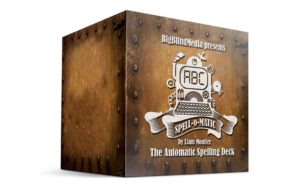 When you "spell" the card, for example the THREE OF CLUBS, you would pass off a card for each word/letter as follows: "ACE", "TWO", "THREE", "O", "F", "C", "L","U","B", "S".  The card that is dealt as the "S" after spelling each letter in the word CLUBS is the reveal card.  If that is not clear, you say the word "Ace" and [pass one card, you say the word "Two" and pass another card and when you get to "of Clubs" you pass a card for each individual letter of those two words.
The cards are special in a way that I would say is imperceptible.  Although you cannot hand the cards out before you do the trick, you can do so after the trick.  Give a good shuffle and you can perform any card trick and even let any spectator handle the deck.  But, you will not be able to repeat Spell-O-Matic without resetting the deck – which should take about 2 minutes.
The deck either comes in red or blue backed Bicycle riders.  There are no angles to speak of, but during the trick you need to be able to do some cuts and moves without looking at your hands.  It could look like you are just shuffling and cutting the cards as you are speaking with the spectators and there is nothing suspicious in my opinion.
This trick is great for strolling or restaurant gigs or just hanging out with your friends.  It is so strong and fun and will leave an impression.
This awesome trick can be purchased at any Murphy's Magic Dealer.