If you have been paying attention to the evolution of Rubik Cube magic over that past decade or so you have seen the development and progress increase rapidly and exponentially.  With Rubiked, the evolution has hit its' pinnacle.  If the previous sentence is not clear, this Rubik's cube trick may just be the best damn thing on the market.  It is so fantastically amazing that you will literally leave your spectators dumbfounded. 
In a nutshell, your spectator or spectators mix up a Rubik's cube as much as they want, without limitation.  You never touch it! Then you remind them that you sent them an email before anything happened and it is a picture of the cube that they mixed with the 3 visible sides matching exactly (the top, right and left).  The chances of this happening are essentially impossible.  You can also show them you're a picture in your camera roll if you don't or can't rely upon an email or send them a link to your website where the image is posted.  All incredible and all impossible!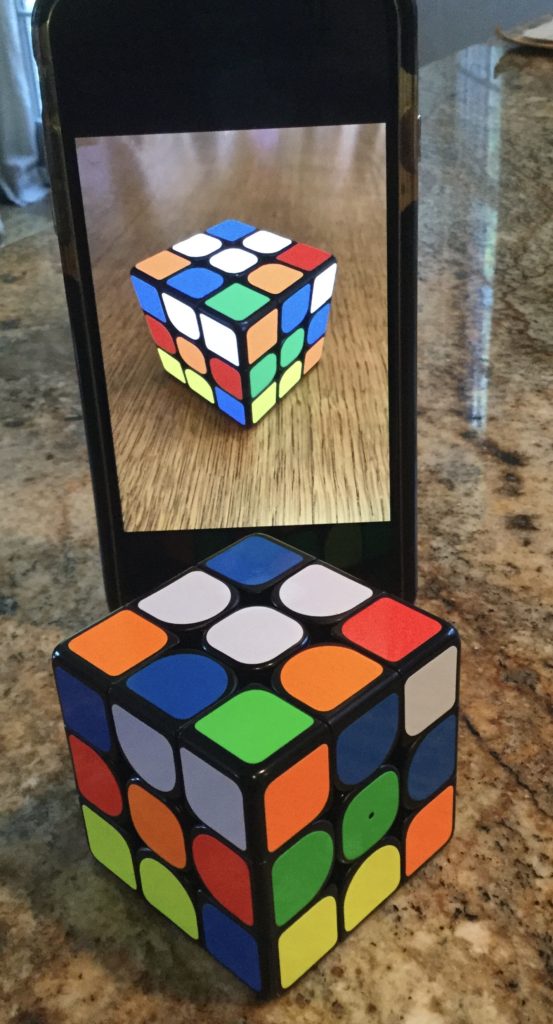 The greatest thing about this outstanding trick is that you do not need to know how to solve the Rubik's cube to perform it and it is really easy to learn and just as easy to present it. In fact, I had never learned how to solve the cube before owning Rubiked. Now that I have it, I have started to learn the trick, for no other purpose than to do it. (And of course to be able to solve in front of spectators).
Rubiked was created by Vincent Tarrit and is sold by www.gentlemens-magic.com.  What you get with your purchase is a special Bluetooth speed cube (a GiiKER smart cube) with a USB charger, extra stickers and an access card with a password that permits you to download the genius app and access a streaming (not downloadable) thirty minute  instructional video in either English or French.  You also get a 12 page pdf "Quick Start Guide" with simple and easy to understand written instructions.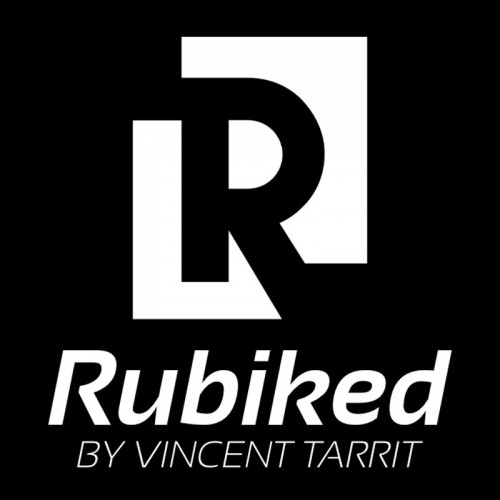 The speed cube is great. It does not look exactly like the Walmart Rubik's cube you buy in Walmart for about $10 bucks, but that is ok. It is very easy to handle and the sides of the cube move effortlessly. The cube also works with other apps that will help you learn how to solve the cube, if you wish to spend the time. There are built in magnets that help the movement of the sides and ensure that the turns are crisp and precise. The whole kit comes in a well designed and sturdy black heavy duty cardboard box. The charger is easy to use and once the cube is fully charged, the charge lasts for an extremely long time. Left in a dormant state, the cube can last for weeks. Because of the way that the charger connects to the cube, there are very small holes on two center pieces that not even be noticed by 99% of your spectators. Although some may question why there are holes, you can easily dismiss the inquiry with a response such as "it came that way" or "it was helpful in learning how to solve it."
The genius behind the trick is the brilliant app, which is available for android and Apple phones.  I found the app to work perfectly and easily for me.  Not a single glitch or problem.  The app downloaded easily and connected without issue to the supplied speed cube.  I was off and running before I even fully watched the video – although I recommend that you always watch an instructional video first.
The instructional video is taught mostly by Michael from Gentelemens-Magic with a brief appearance from the creator, Vincent Tarrit.  Michael's first language is apparently French, but his English is excellent and did not present any issue whatsoever.  The only negative that I can report is that there is background looping music that started to annoy me after a while.  That is not really relevant to the actual trick and it is the worst thing I can say about Rubiked which got a perfect rating.  The instruction is very clear and thorough.  The video is crisp and clear and the most helpful part about it is that when Michael is teaching you how to use the app, there is a split screen that clearly shows the live screen of his phone and what he is doing.  That was very smart and very effective.  The instructional video teaches you everything from how to perform the trick to how to change the stickers or remove the magnets.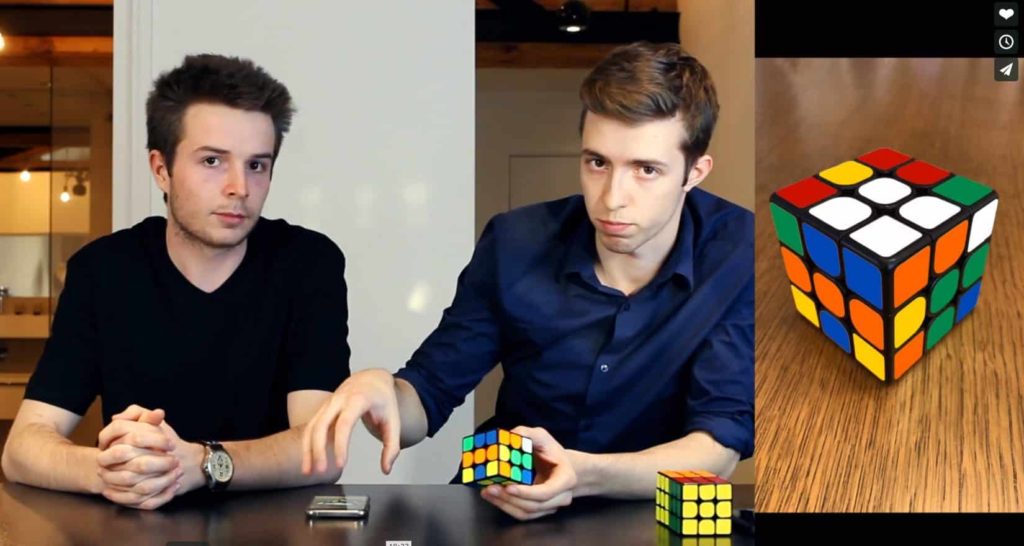 The ad copy for Rubiked says:
"Rubiked is a brand new concept in Rubik's Cube magic, pushing the limit of prediction effects even further! Get ready to discover a cube which allows you to predict the result of a complete random shuffle in your spectators' hands. And guess what? There's no manipulation, you don't even need to take the cube back or even see it.
Rules have just changed.
Forget shells. Forget cube switch. Forget extra gimmicks to carry.
Discover Rubiked, one of Blackpool Magic Convention's 2019 Bestsellers.
Rubiked introduces a completely new way to perform a Rubik's Cube prediction. Imagine having a prediction on your camera roll or your own website, displaying the exact same combination created by your spectators during a real free cube mix – and you don't even need to see it. Built for close-up with a camera roll feature, built for stage to get booked more often, built with the professional in mind, built with even more features…
A perfect synchronicity.
Rubiked uses a special motion sensor transmitting each move to a chip integrated within the central cube axis. Combined with a recognition algorithm, the cube calculates the exact position of each face and transmits it immediately to the app, with no delay, thanks to Bluetooth technology.
No internet ? No Problem.
Rubiked does not work only with internet. You can have the prediction go directly on your own website (and gain web traffic), it is possible to send the picture to your camera roll and all of these options are even faster…
Not just a cube, a speed cube.
You thought you were being fast with the cubes you've got at home? Discover a brand new universe with Rubiked. With its magnetic locking system, it makes all your moves faster and more accurate than ever. Be ready to make more moves with less time.
A boosted app.
With its user-friendly interface, compatible both iOS and Android, the Rubiked app allows you to adapt the effect to your own needs. Simple to use, you'll be guided step by step through an in-app guide and a 30-minute instructional video. Be ready to master the effect… within minutes.
You'll even find ideas and tips to stay away from your phone during the effect or customize your cube.
Rubiked's not just a trick, it's a project: new features are coming up, including a prediction you'll be able to send via email before your spectator even touches the cube! And more but… shhht!
What others are saying…
"This is wickedly good!" – Shawn Farquhar
"I love Rubiked! I want to shake Vincent's hand… No, I want to shake his hand twice it's that good!" – Kev. G
"Rubiked is my favourite purchase of the Blackpool convention. So clever, it went straight into my routine!" – Tom Crosbie
"Rubiked is a great effect which combines the classic Rubik's Cube and technology. It's a perfect mix resulting in a very strong magical effect. I highly recommend it" – Joao Miranda
"Using technology in magic is very common now a days. What's most valuable is that you have made it a real performing piece. Great job!" – Henry Harrius
WHAT YOU RECEIVE The special cube (1 year warranty)
An access code to the Rubiked application (iOS & Android)
The USB charger v. m-USB
An additional sticker setAn explanatory video
STRONG POINTS
A Rubik's Cube at the forefront of technology!
Compatible iOS (Apple / iPhone) and Android (Samsung, HTC, Huawei etc.)
No need to know how to solve a Rubik's for this effect!"
I have used the photo gallery/camera roll and the email reveal and they are equally strong. For a fail safe method, I would use the camera roll (offline) method so you don't have to rely upon email getting through in questionable internet zones. I have not used the website reveal, but it is a great way to get spectators to go to your own website.
This is the holy grail of Rubik's cube magic!  Although it costs more than your average magic trick, this is not your average magic trick.  This product delivers the power of the gods and the price is completely justified.  If you perform Rubiks cube magic this product is an absolute must-have.  It is great for all environments; stage, walk-around, causal or parlor.  If I could give tricks more than 10 out of 10 (which happens once every few years), I would do so now!