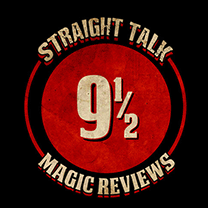 What is Quidnunc Plus!? I am so very glad that you asked.  It is an awesome 2 DVD session with Paul Gordon, by Paul Gordon and taught by, yes you guessed it, Paul Gordon.  This Alakazam Magic project is all about card magic so if you are looking for coin manipulation, sponge balls, flash paper or anything gimmicked, you are in the wrong place.  If however you are looking for several hours of extremely strong card magic with direct presentations, you are in the right place.
This follow-up project to Gold Dust Live contains almost 2 dozen great trick stripped from Gordon's Quidnunc book. As he indicated during the introduction to the first DVD, these tricks were held back and because he can't take them with him, he is sharing some of his choice routines.  Thank you Paul, very much!
This project is designed for a magician audience and is filmed in the Alakazam studio at a card table with David Loosley and one of several other magicians that rotates in depending on the trick. Some of these tricks will definitely fool your magi friends and all of them are great.  At $30 for this double DVD project, this is an extraordinary value for top notch card magic.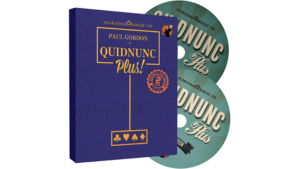 Gordon first performs each trick to Loosley and the other magician (Loosley is seated to Gordon's right and the other magician is seated to Gordon's left) in front of a stationary video camera. He then explains the trick in an easy to understand and thoughtful manner.  Paul Gordon is an excellent teacher of card magic.  This is not the best production quality that Alakzam has released, but it is very good and follows a simple and straight forward plan.  This project is like a private lesson from a super-pro.
Some of the tricks are very easy and self-working and some will require practice. There is truly something here for everyone.  Working pros can pull some great tricks off of this DVD and hobbyists can learn and aspire to improve with Gordon's lead.  For many of the tricks you will need to be comfortable with various counts, lifts, palms, and prestidigitation of various types.
Some of the tricks are 1,2,3 quickies and some are full routines that will really astonish just about anyone.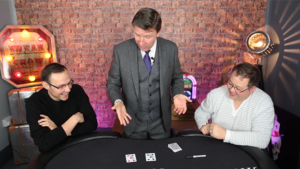 At the end of the project Paul Gordon answers questions from the magician audience and gives advice on how to perform and how he does it.
This double DVD project is highly recommended for its quantity and quality of dragon slaying card magic.
Much appreciation to Murphy's Magic for asking me to vet and review this project.