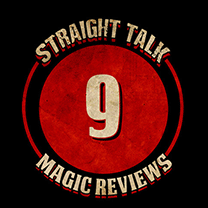 With Bob Solari's Psychic Card Paddle you show your spectators a paddle with six mini cards on it. Your spectator chooses one of the six cards and you flip the paddle over several times to confirm that their card is there and they remember it.  In an instant, you flip the paddle again and Voila, there are only five cards.  The spectator looks for their card and the missing card is the one that they mentally chose!  Quick, easy and great!
This trick is a combination of your standard paddle trick and the Princess card trick. I love this combination because it is so clever and brings the paddle to the next level!  This trick is great for strolling situations, restaurant gigs and causal social situations.  This is fun for all ages.
Of course you cannot hand out the paddle, but if you do the "move" correctly there will be minimal heat on the paddle. The paddle move is not hard to learn or perform and to be honest, I have long lost the desire to do anything requiring a paddle, until now.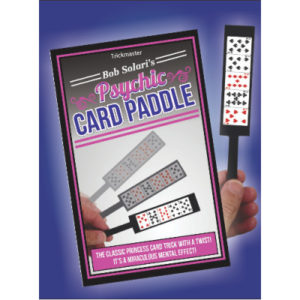 The paddle is very well made and only costs $14.95. It comes with a pamphlet that contains the instructions and teaches the paddle move with hand drawn pictures.  I did not even read the instructions at first and immediately demonstrated the trick to various members of my family who all responded very positively.  The instructions are clear, easy to read and easy to implement.
This wonderful trick is available on Solari's website: www.bobsolarimagic.com and I suggest you check it out!