I was not surprised at the superior quality and excellent content of Parlour Tricks. After all, it was edited, designed and published by Vanishing Inc. What surprised me was that with the book, you get a link to an hour and a half live show by Morgan & West in which they perform everything that they teach in the book. What a great way to start reading a book; watch a show first!
First, the show. Morgan and West perform in character. Although their real names, Jones and Tay, would have been just fine too. Morgan and West perform as 19th century time travelers, dressed in garb from days of old. They speak a bit like they are from another time and they deliver their characters very well.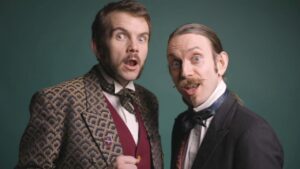 The show starts with a multiplying bottles trick. Everyone has seen this trick so many times that, at least for me, I find it hard to get excited about this trick – but wait. The performance of this trick that I have always seen has a few variations, but they are pretty much all the same. That is, until now. Morgan and West completely reinvent the performance of this trick so that it seems like an all new trick and not the tired routine we have all seen so many times. Right off the bat I was impressed with the routine and patter because the two performers don't work together, but one of them surreptitiously steals the bottles, one at a time, and hides them and they keep coming back. Great start!
The quality of the video is very good and the set is appealing and fits the act perfectly.
As with all the tricks, in the show, the book explains how M&W perform every step to every trick, includes the patter in a word for word transcript with stage cues and direction and clearly explains the method with an abundance of well shot photos.
Throughout the book there are essays that discuss the higher points of magic, trick construction, philosophy, misdirection and the creative process. I love getting a peek inside the minds of magicians that have very clear thoughts on our art and these written pieces are an excellent part of the book.
The diversity of tricks in the show and book is great. There are card tricks, magic square tricks, mind reading and other forms of mentalism, objects appearing in impossible locations and a great escape. M&W excellently use the audience for the tricks and the show is really fantastic, but there are moments that could be tightened and trimmed a bit (in my respectful opinion). I really admire what they have done.
The book is written very well, it is so easy to read and the layout is fantastic. The thought put into this book was deep and excellent. It is a superior product.
This book itself measures 7.5 by 10 inches and has a cloth cover and back. There is a built-in ribbon that serves as a bookmark which is useful because there is so much material and content in this book it will take you many sitting to complete and digest all 356 pages.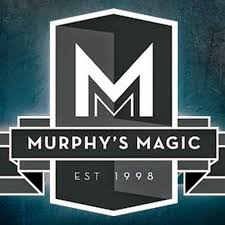 I want to thank Murphy's Magic from sending this book to me for my honest opinion so that I can share it with you. This is a great addition to my bookshelf. Anyone that wants to be the proud owner of this great piece of work can find it at any Murphy's dealer.