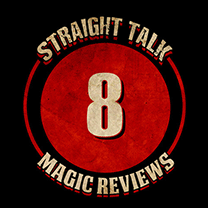 Only Slightly Sleighty is a Ryan Schlutz project in collaboration with Big Blind Media.  Schlutz will fool you again and again with these 7 new card tricks.
Only Slightly Sleighty is a DVD with very strong card magic.  The majority of the tricks require a set-up and two can be done with a borrowed shuffled deck.  There are some moves that you will need to learn for some of the tricks, but they are not too difficult to master and are well taught by Schlutz.   When I watched the DVD I was fooled by Schlutz's performances of the tricks.  I believe that everyone will find something in this project!  The title accurately suggests that the tricks are not too difficult to learn, but some tricks will require some moves and as should be clear, this is not a DVD consisting of wholly self-working card tricks.
The quality of the DVD production is top-notch as is per usual for Big Blind Media.  The tricks are all performed by Schlutz to some of the BBM ladies in an empty barn at a high-hat table.  All of these tricks will require a table so they are not for strolling situations.  Schlutz teaches all the tricks to Liam Montier who assists in the instructional tracks on the DVD.  The camera work is fantastic.   BBM really knows how to deliver a quality magic production.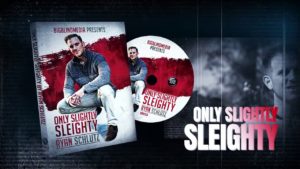 OK, so I told you about some of the good things about this project; the tricks are very fooling, well done and not difficult to learn or perform.  My criticism is that some of the tricks seemed to meander a bit too much with excessive shuffling and over-proving.  At times, Schlutz seems to be long-winded and exaggerating his role as performer.  I think the presentation could, at least for me, be tightened up a bit.  These are not disqualifying factors for potential purchase of the DVD as every magician should put their own touch on each trick.
As of the writing of this review, the DVD sells for $26.95.  The ad copy claims that the DVD is a masterclass in routining, which is a statement that I disagree with as there is no formal instruction on how to routine, but instead just teaches routines with a few tips.  The routines taught are a bit more complex and will require some memorization of the phases if you want to do it like Schlutz does it.
This is a worthwhile purchase that teaches some elaborate card routines with tricks that are impossible to backtrack and will fool you more than just slightly.
Check out your favorite Murphy's Magic dealer for this DVD!