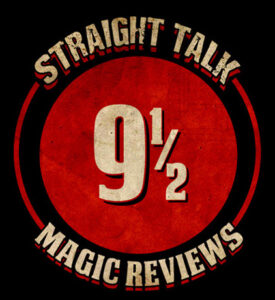 Are you getting sick of Big Blind Media collaborating with Master John Bannon and killing it!  I didn't think so!!  Yet another superb product…OMG Super Morigami!
Here's the deal: The performer takes out a small stack of cards (12 to be exact) and shows that the backs are all different.  In fact, they all come from different Casinos.  They are all different colors and are excellently manufactured cards.  Of great note is that there is a different pre-printed letter on the back of each card which looks like it was written with a thick Sharpie.  (You don't have to do it yourself because it is pre-printed).  There are many explanations for why the letters are written on the back of the cards, including that it is a rating on each Casino.  The performer then takes about half of the packet and mixes it into the other half, but half are face up and half are face down.  The spectator can further mix them.  The performer then lays down the cards in three rows while flipping some cards over and some cards not.  The cards are hopelessly mixed face-up and face-down.  Then the spectator takes either rows of columns of the cards and flips them over onto one another until all the cards are consolidated into one haphazard topsy-turvy pile.  Here is where the super reveal comes into play.  The cards are spread and the only cards that remain face-down have the letters L-U-C-K-Y.  That is a fun reveal, but then as those cards a flipped over, you see that the LUCKY cards are in fact a Royal Flush in Spades.
This is a fun and whimsical trick that really surprises your laymen.  It is easy to carry with you, the cards look amazing and it is so easy to set up.  There is no sleight of hand and the trick is super easy to learn and perform.  And, of course, everything can be examined.  Sounds like a Bannon trick, doesn't it?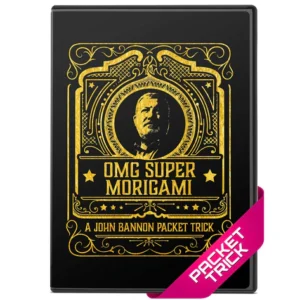 With your $24.99 purchase you get the most beautiful packet trick packaging that you will keep.  It is a small box (about the size of a CD jewel box – remember those??) with a magnetic close.  It is a very sturdy box and has great graphics in gold on the front of the box, depicting Bannon.  Yes, BBM is once again raising the bar on how to sell magic!  When the box is opened, there is a square cut-out in which the provided cards come in a plastic packet trick wallet/envelope.  You also get a password protected 3 minute downloadable performance video and a 13 minute instructional video taught and performed by Bannon to Liam Montier – each in their own places.  It's the standard excellence you would expect from Bannon, Montier and BBM!  You also get a pdf set of instructions for you old schoolers out there that want to read and learn instead of just watch on the screen.  The instructions are very good and easy to follow.
For those of you that follow Bannon, the concept behind this trick is not new and you can find similar mixing/folding tricks in Bannon's prior publications, including in the AWESOME Move Zero series (also by BBM).
The ad copy (which in part quotes this advance review states:
" "This trick is an absolute killer!" 9.5/10 Straight Talk Magic Reviews
"John Bannon's influence on card magic is undeniable, and 'OMG Super Morigami Poker!' is another winner." Ryan Plunkett, Genii Magazine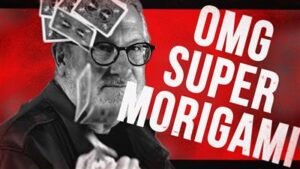 John Bannon's OMG Super Morigami is a self-contained, self working packet trick that utterly defies explanation. Indeed, the fact that it works may baffle you almost as much as your spectators!!!
You bring out a small packet of playing cards. Each card is from a different casino and each one has a large letter written on the back. You explain that this is your ranking system. You secretly pocket a card from each Casino you visit, and then rate it from A to Z!
The packet is shuffled and cut by you and your spectator! The cards are even mixed face up into face down. To further randomise things, the cards are dealt out and remixed totally at the discretion of your spectator. They make every decision. The packet is a mess of face up and face down cards – and your spectator was the one who decided on the configuration!
Despite this totally hands off procedure the ONLY cards remaining face down are removed to show that they spell LUCKY!
Lucky indeed.
However, it turns out that they were even luckier than they thought. You turn each of the "L-U-C-K-Y" cards face up, revealing a Royal Flush in Spades!
OMG Super Morigami sees John Bannon continuing his epic work in the field of packet tricks. The creator of immense best sellers such as Twisted Sisters, Royal Scam, Buzzkill, Duplicity, Paint It Blank, Spin Doctor and Strangers Gallery has a knack for creating commercial, fun, utterly fooling tricks that you'll be desperate to get out and perform. And, as an added bonus, this one is totally self working… meaning you can put all your attention of presenting it and soaking up the glory.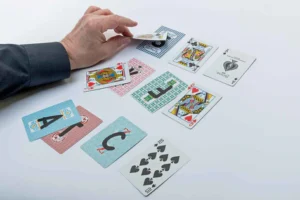 * A self contained pocket miracle. The 12 specially printed cards (on beautiful USPCC stock) are supplied in a wallet for easy transport
* 100% Self Working. No sleights, peeks, forces or equivoque!
* Totally examinable. Nothing to hide.
* Impossibly fooling. The spectator literally makes all the decisions.
* Packaged in a beautiful faux-hardback book – just right to slip onto your shelf and protect your set of gaff cards!"
The trick needs a table.  That slightly limits when and where the trick can be performed because you may not have a table or enough table space to lay out 3 rows of cards.  In the right time and place, this trick is an absolute killer. I highly recommend OMG Super Morigami for all of the reasons listed above.  Great going BBM!