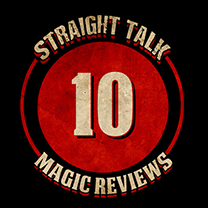 Move Zero 3 is the third DVD in the self-working series by John Bannon and Big Blind Media.  Bannon shares his brilliant self-working card tricks and they are incredibly and totally awesome.  With this third release Bannon gets a hat trick.  Each of the prior projects got the highest rating and if I could rate this more than a 10 out of 10, I would!  This is an undeniably, definitely, absolutely must have DVD!  Don't delay, don't pass go, don't collect anything, just trust me and get this DVD right now.  Bannon is brilliant as always and better than ever.
Move Zero Volume 3 starts off with a killer trick, The 32nd Sense.  It is a simple self-working trick where a randomly chosen card is found using an envelope full of dollars bills by counting to a card in the deck that corresponds with the value of the cash that was in the envelope from the very start.  Bannon uses an amazing and utterly fooling technique (the automatic placement) in such a clever way.  Like the rest of the tricks, Bannon first performs the trick to a lady spectator and then explains how to do the trick on an instructional track with the assistance of Liam Montier.  After the trick, the origin and inspiration is fully and appropriately credited.  In this case, Ed Marlo gets top billing for the automatic placement.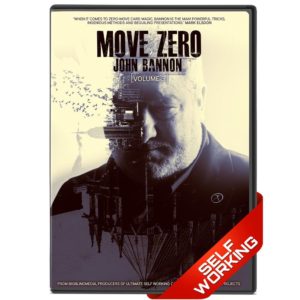 Then Bannon teaches one of many "trick bags" which is a track that teaches a relevant concept.  As with every part of this DVD, Bannon teaches it excellently and clearly!  Bannon is such an articulate and clear instructor that he sets the gold standard for not only his creations, but also his explanations.  The other "trick bag" tracks include lessons on the Parity Principal, The Prophecy Move, The Vertical Addition and the Einstein Tautology.
In addition to the performance and instructional tracks, Bannon responds to written questions in short interview segments from many excellent magicians including Joshua Jay, Andi Gladwin, David Regal and many others.  He answers questions such as: "How to practice self-working tricks", "Can I trust my audience?", "Is it different performing for magicians?", "When is a self-working trick better" and a few others.
The production quality of the DVD is the highest caliber with excellent camera work, angles, editing, sound, lighting and graphics.  You can rely on Big Blind Media to deliver the goods every time!
The second trick, Mousetrap, is another killer.  It can be done with a borrowed shuffled deck and it is really amazing.  In Mousetrap, two cards are used to find a selected card in the most amazing and surprising way.  This trick is easy and gets astounding reactions.
The third trick, Candy Crush is such a strong fooler and although it requires a bit of a set-up, it may be my favorite trick on the DVD.  Here, the spectator inserts a business card in the deck and when it is turned over, it is shown to have the words "Suit" and "Value" written on it, with each word pointing to a the playing card on the other side of the business card.  The spectator can change the direction of the business card to change the new card that will be constructed with the suit and value from the two cards.  Then, the "created" card is spelled while dealing the cards down one at a time and the last card is the created card.  Totally awesome.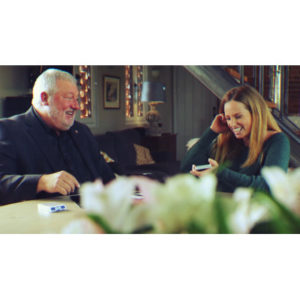 Orgami Prediction is another total fooler.  This also requires a bit of a set-up, which can be done on the fly, but that only takes a few seconds.  It is an insane prediction effect that totally slays!  Bannon teaches a magician fooler version of this trick that will get most every educated magician.
My fifth favorite trick (equally tried for second place) is Cross Purposes.  It is another super cool effect in which 2 spectators participate.  They each select a number of cards and through a quick and easy process one spectator is assigned a random card.  It turns out that the other spectator's number is counted down and that is the location of the first spectator's card which was lost in the deck.
The Box of Doom, takes a fooling and old principal that I have seen used with loose change and updates it with cards.  This, unlike many of the other tricks, requires an easy to make prop (you need a box) and is an absolute crowd pleaser.
There are also some poker effects which are very entertaining.  The only trick that didn't really knock me out is Big Bad Add, which seemed a bit too "mathy" for me, but I can see how many people will like the trick very much.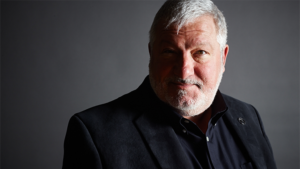 All the tricks presented are simple to learn and perform.  The tricks are great for magi at all levels from beginner to pro.
Move Zero 3, like Volumes 1 and 2, is fantastic!  All 3 DVD's are required additions to every magician's library.  Bannon may just have saved the best for last!  I triple promise that you will love this DVD.  What are you waiting for?!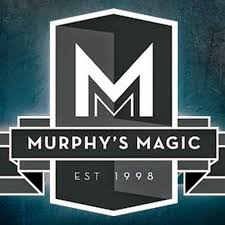 Go to your favorite Murphy's Magic dealer and then buy all 3 Move Zero DVDs!