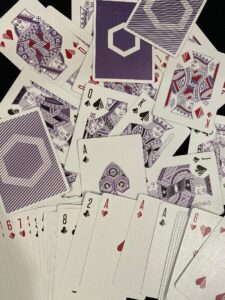 The Mono heXa Chroma Edition playing cards are another in the series of Luke Wadey's Mono playing cards.  With a hexagram back created by lavender and white stripes, these are very cool looking cards with unusual colors and a metallic shine to the card backs.
The pips in the Clubs and Spades contain only black ink and the pips in the Hearts and Diamonds contain only red ink.  However, these cards are not truly monochromatic because the court cards have lavender, black and red (black for the Club and Spade cards (no red) and red for the Heart and Diamond cards (no lavender).  The card backs have a two-way design that is comprised of the horizontal lines in various in lavender white, but for some reason it looks like it is a one-way design.  It is an optical illusions.
This design, like the other Mono decks, is conducive to flourishing and fanning and generally just playing around.
All the pips are custom designed in that half the pip is solid and the other half is made of lines with spaces in between them.  The Ace of Spades is a giant angled Spade, with straight lines,with the words "Mono – heXa Chroma Edition" underneath the graphic of the Spade.
Also include with the standard 52 cards are two identical Jokers that contain white hexagrams in the middle of a solid dark lavender card face.  There is also a double facer for your magic tricks and other uses.  The deck also comes with an extra Queen of Hearts.
The tuck box is predominantly lavender with the image of the card backs.  The word "Mono – heXa"in small large white letters appears against a solid lavender background.
These cards are manufactured by the USPCC on traditionally –cut premium bee stock.  There are only 1000 decks and then they will be gone.  The custom tuck seal on my copy is 974/1000.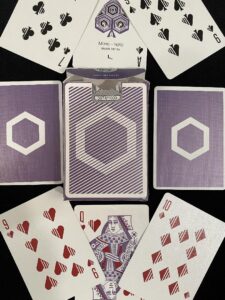 This deck of cards is unique and great for flourishing.  They are eye catching because of their cool back design and because it is so noticeably lacking in any color.
The ad copy states:
"This fresh approach to a workers deck combines modern cardistry-inspired patterns with luxurious metallic purple Pantone colors. As a special edition release in the mono series, there were only 924 decks printed and each one has a numbered seal (or you can grab one of the EVEN MORE RARE Mono-heXa Chroma NO SEALS Playing Cards that are limited to just 300 decks).
Mono-heXa Chroma Playing Cards take the wild aesthetics of Mono-heXa Playing Cards and refines them into an elegant deck that redefines what a deck of cards for magic tricks can be. Simply put, it's a deck of cardistry playing cards with a brilliant magic twist.
The iconic full bleed and gradients has been replaced with thin metallic borders. The tuck case has also been transformed into an understated design where the metallic ink creates a solid block of reflective and beautifully minimalist luxury.
Each deck is printed by the USPCC on traditionally-cut premium bee stock with an air-cushion finish for ultimate handling. Among the included 56 customized cards are 2 jokers, a double-backer and a special gaff card.
Traditional face colors of red and black suits have been introduced, whilst the metallic ink pops on the modified courts. The deck features reveals on the tuck and included gaff card to give your card magic routines a lovely boost.
Combining cardistry and magic in a contemporary and unique style, this limited edition deck of cards redefines what materials a modern card magic worker can have at their disposal.
Available with a numbered seal or a "no seal" version."
Thanks to Murphy's Magic for sending me this deck of cards so I can provide my honest feedback to you.  While the cards still are available, they can be found at any Murphy's retailer.