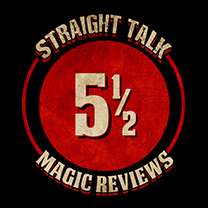 Magikub by Federico Poeymiro is a gimmicked Rubik's cube trick in which the spectator shows a mixed up Rubik's cube and with the flick of the wrist, the entire cube is solved and it can be displayed on all 6 sides.
With you $74.95 purchase of Magikub you get a gimmicked cube in a small form-fitted black box and a link and password to an almost 7 minute (but not quite) instructional video that is set to music and had English subtitles. I think that $75 bucks is a bit expensive for what you get.
I was disappointed by the instructional video because it was so short and the subtitles did not fully describe what was happening in the video. There are no performances to any spectators and instead the trick is displayed to a video camera set on a tripod.  The instructional video is overall lacking in instruction and explanation.  Also, the written link to the instructional video that was on the cube box was incorrect and I had to type several variations of www, http://, .com/ before I landed on the right one.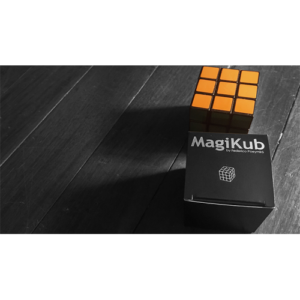 The MagiKub is not ideal for close-up performances because it cannot be handed out and your spectators will instantly want to see it. Secondly, there are some sensitive angles to be aware of which are not conducive to walk around or strolling gigs.  If you spectators are too close to you and the cube, they may notice something "off" about the cube.  This trick looks great for social media or videos.
To master this trick, you will need to spend some time in front of a mirror so you learn the angles and get the needed moves down fluidly.
Although I am not a cube fanatic or connoisseur, I can say that this gimmick is clever and will fool your spectators. Just make sure they are not too close so they don't grab the cube and instantly discovery the method.
This cube trick can be bought at any Murphy's Magic dealer.