Standing in front of your spectators you display a one dollar bill.  You immediately change it into a $100 bill.  In a millisecond the bill changes into a blue Visa credit card and in another flip of the wrist, the credit card changes into a gold American Express card. That's a lot of magical moments in 10 seconds.
With your $45 purchase of Get Money, you get a finished and ready to go gimmick, some extra pieces and a 48 minute instructional password protected streaming vimeo video that teaches you everything you need to know.
I really appreciate the fact that the gimmick comes completed and is ready to work out of the box.  If I had to build this from scratch I would have abandoned the efforts.  The trick is very easy to learn and easy to perform.
During performance you will want to watch your angles and make sure you have a few feet distance between yourself and your spectators.  You will also want to make sure that your spectators are directly in front of you or you may flash some of the gimmick and the thickness which will give the trick away.
The instructional video is taught by Iglesias and he does a good job.  He is direct and to the point.  He teaches the how to section for the various different currencies – although the moves are all the same.  He also teaches how to fix the gimmick if it breaks.  He also teaches a switch so you can ring in an actual credit card and ditch the gimmick so you can end clean.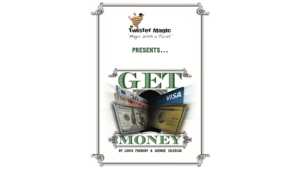 The ad copy states:
"From the minds of Louis Frenchy and George Iglesias comes a diabolical effect that will make your spectators hallucinate!
Based on the effect dollar to credit card created by George Iglesias in 1995 and popularized in the magic world during the past 10 years, Louis Frenchy now comes with this new version named Get Money where you will show 3 amazing transformations in just seconds.
Extremely visual, fast, very commercial, easy to do, portable and customizable.
Effect:
Show a $1 dollar bill and transform it into a $100 dollar bill, now give a magic pass and transform the $100 bill into a blue VISA credit card, now show it from both sides and when giving another magic pass transform it into a gold AMEX credit card that you can also display on both sides.
The magician can place his own credit card (real or expired one) and make a payment with the gimmick or switch the gimmick for another one. Everything is fully explained in the instructional video.
Available in three versions: Dollars, Euros and Pounds."
The best part about Get Money is the gimmick.  Well, that's what it is!  This gimmick allows you to do many changes one after another in just a few seconds.  You spectators won't even know what hit them before the trick is over and you hand out your credit card to them for inspection.

This is a fun trick with some impressive moments of astonishment.
Thanks to Murphy's Magic for sharing this trick with me so I can deliver my honest review to my readers!