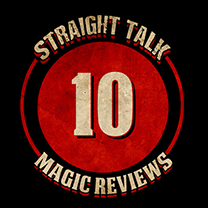 John Bannon's Dealing With It Season 1 is a Big Blind Media production that teaches 6 of Bannon's tricks that were published in a Genii Magazine in 2017. And, of course, the star is John Bannon.  Another KILLER from Bannon and BBM!
This project closely follows the four volume release of Move Zero, which consists of self-working tricks. Unlike Move Zero, DWI teaches tricks that requires some basic sleight of hand.  The format is very similar to the Move Zero project and perhaps some of the material taught on DWI was destined for and cut from one of the Move Zero DVDs.  In fact, the "trick bag" track that teaches the Double Dutch False Cut was clearly recorded and produced during the Move Zero sessions.
Bannon performs all the tricks on the DVD. Most of the time he is sitting with the lovely Rachel as a spectator, who also works double-time manning the clapperboard.  Bannon then explains the tricks and moves with the accompaniment of Dave Forrest.  The two have a good chemistry and interaction and are a well paired duo.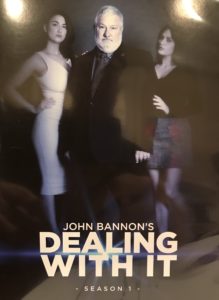 The first trick, Heart of Glass is a great trick that you can perform with any deck although it requires a quick set-up, which can be done on the fly. This trick, as taught uses a small glass the separates cards that transpose position in a very magical and amazing way.  This one is a real keeper.  Just like the first trick, the next three tricks Cross Eyed Jacks, Rendezvous and Queenpins are amazing transposition effects that leave your spectators in the dust and scratching their heads.  Queenpins is a particularly awesome trick and one that is required reading (or watching).  The fifth and sixth tricks Uprising and Well Tempered Aces are more complicated and complex transposition tricks that requires a bit more audience attention.  Like the other routines, there two contain very strong material.  As mentioned above, Bannon teaches a false cut and the Hybrid Holdout technique in which the spectator shuffles the cards with the performer and then the performer is able to produce the four aces in a very impressive and fooling way.
As usual for Big Blind Media, the DVD is excellently produced, shot, organized and edited. Big Blind Media sets the gold standard for bringing the magic community excellent magic in the most user friendly format with top-notch presentation.  Bannon's teaching is excellent and easy to follow and he appropriately credits all moves and inspiration in his routines.
Bannon and BBM score again! 10 out of 10!  When does Season 2 arrive?!!