Digits of Deception is an Alan Rorrison and Big Blind Media collaboration that delivers a DVD case full of 8 different and varied tricks. The DVD is shot according to BBM's top-notch production and editing standards.
The first trick presented is Rory's Rise. It is a gimmicked trick that allows you to make a card that is inserted half way into the deck and is outjogged immediately rise to the top third, still outjogged. It looks great and can be inserted into any ambitious card routine to spice it up in a way that is amazing.  Rorrison teaches you how to make the gimmick, which takes about 5 minutes and is easy to make. You will need to buy something that you likely do not have already, but it is inexpensive. The routine is excellent and Rorrison teaches a great switch (which you can use in other tricks).
The next trick is a very visual key penetration through a ring without any gimmicks. This can be done impromptu with borrowed rings and keys. This is fun and requires a bit of finesse. And, if you cannot find a key, you can do it with a coin!
The third trick is called Fries With That and it is Rorrison's version of McDonald's Aces (get it Mcdonald's…fries). It is the first card trick on the DVD and it is a good one. This trick requires about 10 minutes of arts and crafts and you will have to destroy a few cards to create the needed gimmick. You will need to split a card as part of this project. It's nothing to be worried about. Performing this is not difficult, but you need to perform the Elmsley count. This is a great presentation and it's easy to do.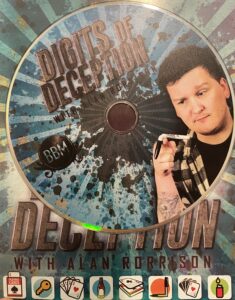 Bud's Bottle, is a coin through bottle routine with a signed coin. This is not a trick you should do to one person in a well lit environment. You will need to get an extra special coin and as long as you have that you can do this with a Quarter. It is recommended that you use a dark brown glass bottle in a group and in a bar setting. You don't want to have anyone inspecting the bottle and coin too carefully. This is a start and your done trick that is really powerful so long as you do it and move on.
Static is a levitating card trick with the easiest gimmick to make ever. Making the gimmick will take about 3 seconds with something you already have. The trick is very visual, but there are some angle issues to be aware of before you go ahead. I like this and will use it as a quick little magical moment.
Ah, the next trick is the Sharpie Bend. The Sharpie Bend is the trick pictured on the DVD cover art and it is a self made gimmick. This trick is an adaptation of a metal bending routine applied to a Sharpie. You watch the Sharpie slowly bend and when you are done you are left with a Sharpie that is permanently bent at a 90 degree angle. This is very cool looking and has a moment of discrepant imagery, but this is a winner. Rorrison credits Jesse Feinberg for his previously released similar effect.
Aces Out is another card trick that will definitely not fool your magician friends, not even for a split second, but my fool some of your unsophisticated spectators. With Aces Out, you need a gimmicked deck for the kicker ending. You basically remove the four aces from the deck and after some verbal selection of aces, a selected ace disappears and reappears in the deck, which is then shown to be an entire deck of blank cards.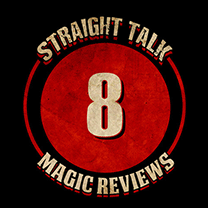 The final trick, Be Safe, is a trick with a lighter that employees the paddle move. For me, this trick requires too much construction and I generally stay away from tricks whose core rely upon the paddle move.
This DVD is for magicians that enjoy making gimmicks and performing quick and direct magic for their friends and spectators. Unlike a project dedicated to one type of magic, the variety here is tremendous. Mix it up with Rorrison!