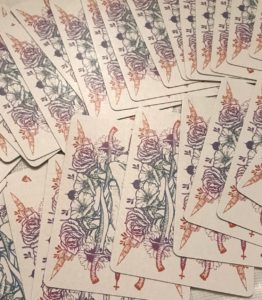 Some say that Daily Life is boring. Doldrums.  Bland.  Well, they must be talking about themselves and not the Daily Life playing cards.  What are the Daily Life playing cards?
Well, Austin Ho says:
"Colors are the string of time that string together our day-to-day life. From deep blue sadness that envelops our wounded heart, to vibrant red that lifts our lips to a heart-warming smile.
So hold within your hands the deck of Daily Life Playing Cards, which therewith lingers your warmth, and dance with a splash of colors with your cardistry.
This is my Daily Life.
Which may fraught with hardship and distress. But there are also moments that abound with glittering joy.
Beneath the prideful heart that is the King's, lies a humble adoration for his beloved Queen, and a modest pursuit for their collection of swords.
And beyond the nurturing elegance of the Queen, dwells a ravenous hunger to possess everything beautiful.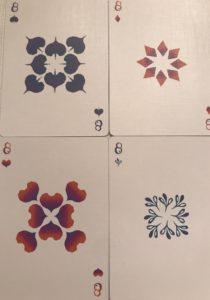 The Jack too, albeit looking ordinary and loyal as a servant, shoulders upon himself a lifelong dream as a celebrated poet, for which he composes every day.
What about your Daily Life?"
I am not sure exactly what that means. The ad copy is poetic, but what about the cards?  You get 56 cards which consist of your 52 standard suits and values, a blank faced card, and three jokers which are drawn hands. One is a view of the palm of a left hand, one is the back of the right hand and there is one that shows the left hand holding a playing card.
The card box has a drawn picture of a hand holding a box of cards with the words "DAILY LIFE" on it and the other sides have a stretched artistic drawing of a hand. The box is very interesting looking and very cool.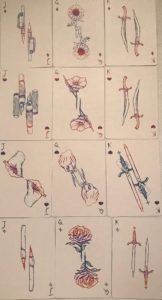 The pips on the cards are totally original and you have never seen these before. Each suit is recognizable but they are very different than standard pips.  They are also organized in a unique way on the cards and almost look like you are staring into a kaleidoscope.   I really like it.
The Jacks each have different creative tools like a pen, pencil or paint brush. The Queens have graphics that contain different flowers and on the Queen of hearts there is a picture of a hand holding a clipper.  The Kinds call contain a drawing of some sort of knife, dagger or sword.  The Aces are also different than anything you have ever seen.  The Ace of Clubs has the three different flowers from the Queen cards being held by one hand and using the clippers in the other hand.   The Ace of Diamonds has a drawing of a hand drawing on a piece of paper.  The Ace of Hearts has an image of two hands making a heart shape and the Spade has a hand holding a card that looks like an Ace of Spades with a different Ace of Spades printed on that card.  Kind of weird.
The card back design is so interesting and it has a drawing of hands clenching one another, swords, flowers and pens. It is colorful but subdued.  For more insight, look at the pictures on www.straighttalkmagicreviews.com.
These cards by www.theoneplayingcards.com are designed by Austin Ho and Skymember Presents and are made by the USPCC and handle very well.  They faro easily.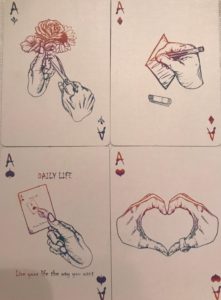 Because these cards are so different than your regular cards they are worth the 10 bucks that they cost.
If you are looking for unique, original and quality, you should check out these cards.
Thanks to the distributor, Murphy's Magic, for asking me to review these cards.