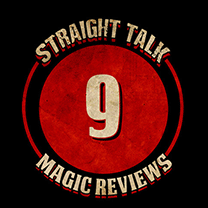 Conscious Magic Episode 1 is the first in a series of DVD's (or downloads) created by Andrew Gerard and Ran Pink in which the creators teach their own tricks. These tricks are devised for causal environments such as at the bar, at a party, hanging out with friends or at the dinner table.  The DVD's delve deep into the creator's thinking, their motivation and thought process behind the presentation and effect.  Coming out of the gate, Gerard and Pink teach some real strong magic that makes this project a must buy.
The first trick, Real World, is Andrew Gerard's take on Out of This World. Gerard performs the trick to three friends over drinks sitting at home at a table.  Gerard's version of this Paul Curry classic is cunning and solves a basic problem inherent in the original version.  There is no need for any awkward switches or quick moves and it is very impactful as it adds a twist that is totally new to me.  I like it a lot!  Gerard also performs this trick in a bar so you can see a quicker version of the trick.  Afterwards, Gerard explains the trick and various ways to perform it.  He is accompanied by Pink who interfaces naturally with Gerard and the two are a good team to point out the subtleties and nuances of the trick.  Like the original version, there is a set-up required, but that should not be a surprise to anyone.  As a postscript, Gerard further explains his creative process when creating magic and this trick in particular.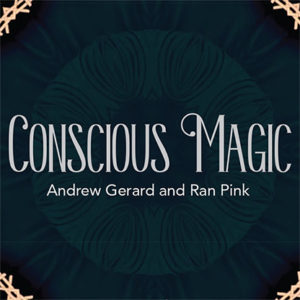 The second trick, T-Rex, is Pink's mind reading method in which a spectator writes a thought down on a piece of paper, hands it to the performer who immediately tears it up and then reads their mind. I am sure that most of you know the method when a word is written down and then the paper is immediately torn and given back to the spectator.  This is a very direct and quick version of this method.  It is a great version of this mentalism classic and is quick and easy to learn.  Pink performs this multiple times on the street and in a bar to strangers and to friends inside their house.  The reactions are very strong.  Pink credits Richard Osterlind who is known for this method.  As in the prior clip, both Pink and Gerard discuss the trick, its origin, the manner of presentation and the effect it has on your spectators and you see the connection you can make by using this trick.  Pink goes through the tear with both a business card size piece of paper and the ever-present post-it and also how to divine either words or images.   Pinks narration is very clear and makes you feel very comfortable in using this method to read minds.  Like the prior trick, Pink gives a postscript warning while seated at a booth in a restaurant (with prominently placed dirty plates and milkshake glass).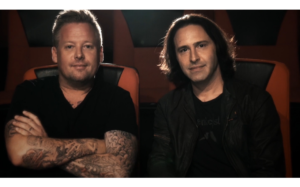 A third trick, Optika, labelled as a bonus trick, is a levitating bill routine using Yigal Mesika's Loops and two dollar bills.  If you are a fan of Loops, this is a great trick that Gerard sells as an optical illusion.  The way that Gerard presents this trick, surrounded by a bunch of people at a party, inspires significant conversation that lasts after the completion of the trick.
This debut project is an hour and five minutes long. It is very well produced and has tons of live performances and very clear and informative instructional segments.  At the time of the writing of this review, this trick retails for $35, which I think is just a tad expensive for three trick.  Notwithstanding this issue, this is a great project that gives you a peek into the minds of two insightful and creative magicians.  I can't wait for Episode 2!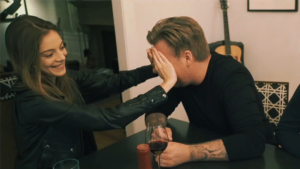 This great DVD is available at your favorite Murphy's Magic dealer.