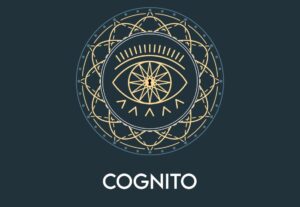 Damn you Lloyd Barnes!!! (You too Owen Garfield!)  I had things to do and then you went ahead and released Cognito.  That was the end of me.  I have done nothing but immerse myself in Cognito and my daily living TO DO list has only grown in size (exponentially).  I must remember to put down my phone one of these days and go food shopping and maybe do some laundry.
OK, so here it is: Cognito is one of the most hyped magic products in as long as I can remember. Nota bene:   Hype does not mean "overhyped."  In this case, the hype is well-deserved.  This magic app is pure magic.  This app does not enable you to do one trick, it is like an encyclopedia or storage closet of a multitude of tricks.  And as I have seen, more tricks and routines are being released every day.  The members only Facebook Cognito page has our brethren sharing their wonderful thoughts and data files to upload, for free, with their own personalized touches.  I have spent a good amount of time reading the instructional manual, watching the instructional videos (which keep getting added as the app grows) and investigating the various methods on the app.  This is Apple and Android friendly!
With Cognito you can amaze in so many ways, some of which I will describe below.  This is not just a clever awesome app, but an entire show on your phone, every day.  You are always prepared to entertain even if you have nothing in your pockets other than your phone.  This is not a one-trick pony, this is the entire stable of thoroughbreds.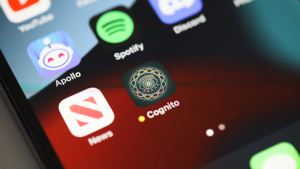 Lloyd has become the face of Cognito and as he humbly said, he does not feel that this is his app anymore, it is now property of the magic community.  He said he brought the bricks and everyone else is building the houses.  Well, maybe the mansions!  As of the writing of this review, Cognito is changing every few days, getting updated and tweaked and growing in functionality.  In fact, I watched Lloyd perform the ACAAN routine that is set to come out in a few days and I am almost delirious with excitement.  It is quite incredible.  And, when the ACAAN functionality comes out on November 16, 2021, the price will rise by $10 bucks.  Even at the new price of $39.95, this app is a ridiculous steal.  This app should be priced at $80 to $100 (or more) for what you get and what it can do.
So, what can you do with Cognito?  You get a suite of pre-loaded routines that can do different things with different methods.  When I first got Cognito, I started with the routine in which you merely think of any playing card and then review a few pictures of playing cards, some cards are face-up and some are face-down.  I did this routine to myself as Lloyd suggested in the first instructional video.  You scroll through what appears to be your photo gallery and look at the pictures of the face-up and face-down cards.  After a handful of pictures, you see some cards face up and some face down and low and behold, the final picture reveals the card you were thinking of by displaying the face up cards laying on top of face-down cards which spell the thought of card.  So, if you picked the King of Diamonds, the final picture has a KD displayed in the face-up cards. If you picked the Seven of Spades a 7S is displayed.  Interestingly, it is not readily apparent from looking at the picture that the cards spell the reveal.  You can exploit this in 2 ways.  The first, you can slowly move the phone away from the spectator until they see the numbers or letters.  The other is that you can use the reveal picture as a peek from across a table.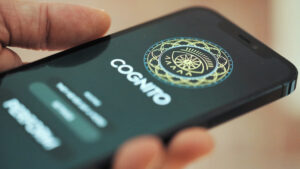 There are also some incredibly clever ways at peeking the information and the manners in which the spectator's chosen card is selected vary greatly for different circumstances.  I use them all and although I won't describe them here, they are great.  You can also have a spectator look at a random zodiac signs on your phone and scroll through various pictures, apparently on your photo gallery, and without ever touching your phone again, or seeing the screen, you can guess what star sign they have chosen.  After looking at a small handful of pictures, you can guess what State in the USA a spectator has chosen on a map, you can guess a word they are thinking of from a list of 20 words, you can show them various movie posters and guess which one is their favorite and you can divine their birthday in a super-devious way.
The Facebook group that I mentioned above is also great.  I downloaded a routine with David Jonathan and Dan Harlan's SNAPS cards and it is really incredible.  All I did was download a data file from the Facebook page and set it up.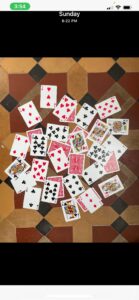 Now there are ways that you can perform to a spectator across the globe by directing them to a real Instagram account and guess literally anything they are thinking about.  You can customize the routines and add your own photos.  The possibilities are enormous.  Unlike other apps you do not need an internet connection to be operational.
It is easy to set up the app on your phone and easy to learn and perform the basic routines.  I was performing the basic card revelation routine described above within 10 minutes and I loved it.  A small amount of learning time will go a long way and really opens up the universe of what is possible with this app.
When I first got the app, I do confess that I struggled with the first instructional video and the display settings.  I wanted to get it perfect and I didn't 100% follow the video that is about an hour and twenty minutes long.  I believe that is because that Lloyd was trying to teach a ton of material and convey a tremendous amount of information in a short period of time.  The most confusing part of the video to me was the teaching of the algorithm in the software.  It is really unnecessary to understand how the app works, but I do understand the basic premise.  I would probably need to sit down and watch the video again to really get it (enough to explain it to someone else) but for me, that is not necessary.  I know how to use my microwave, but I don't need to know how the electronics in the box create the microwaves.  It just works.  Same thing with Cognito.
One of my favorite parts of the instructional videos (now plural) is the live performances.  I welcome them and hope that more are posted.  They are really inspiring.
Although I have not tried it out, I know that you can peek the reveals, among other ways, with confederates, watches, fitbits and Bluetooth earpieces.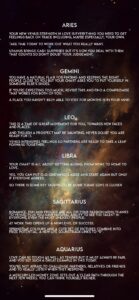 The ad-copy states:
"Description:
"This is one of the best Apps I have ever used. The amount of extra effects now available on the Facebook group make this an incredible purchase. If I am asked to do ONE trick this is the one I will now choose!" -Paul Romhany, *Reviews Vanish Magazine
"The best app of the decade."
– Craig Petty
"Cognito is genius. What an incredible tool with limitless possibilities. 11/10"
– Christian Grace
Magicians and mentalists have strived for centuries to crack the code of real mind reading.
COGNITO is the closest you will ever come to experiencing the incredible power of telepathy.
Imagine having someone think of ANYTHING (a playing card, star sign, word, movie, celebrity…whatever THEY want). They NEVER write it down, type it, point at it, click it, blink or even whisper…the thought ONLY exists inside their mind.
Yet with Cognito you know EXACTLY what they are thinking. There is even a way to do it with no peek at all.
Cognito is a revolutionary Magic App that combines a classic principle with genius new methods to know what spectators are thinking without seemingly doing anything.
The reason reviewers are calling this "The best app of the decade." is because it has no competition. Cognito stands on its own as the most unique and brilliantly thought out Magic App ever created.
Simply put; Magic Apps shouldn't get reactions like this.
Incredibly easy to perform
NO memory work or mental calculations
Perform in minutes
Works in ANY language
NO internet needed
Fools magicians
Multiple effects built in
Create your own effects with ease.
PLUS: A huge and active Facebook community (facebook name: cognitoapp) packed with ideas and new improbable routines.
Created by Lloyd Barnes & Owen Garfield and developed by Joshua Riley, Murphy's Magic proudly presents… COGNITO
"This is far more than an app, this is a tool that will open up a world of routining possibilities! First impressions… ******* awesome!!!!"
– Michael Murray
"The more you play with Cognito, the more powerful it becomes. A versatile way to silently decipher a free thought."
– Rory Adams
"Wait, what?!? Hahaha. Love it! So, so smart."
– Mark Elsdon
"Cognito is a real world practical way to perform incredible mind reading feats, anytime and anywhere!"
– Oz Pearlman
"One of the best apps ever."
– Benke Smith"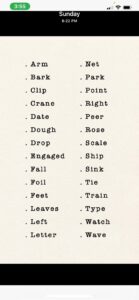 The ad-copy contains well-deserved high praise from some very well known magi and so many great magicians are sharing their routines and ideas on the Facebook page, which already has over 3,500 members in a matter of weeks.  The only thing I disagree with in the ad copy is the one statement that there is "no memory work" needed.  That is only partially true.  For most routines you don't need to remember anything, but for one routine you need to remember a dozen "actions" that are necessary to read and blow minds.  I have not used this particular routine (and probably won't) but I can tell that it is great.  Barnes properly credits Richard Sanders for the underlying inspiration for Cognito based on one of his tricks and Stephen Leathwaite for a clever method for one of the routines.  Michael Murray is attributed with some great thoughts as are many others.
I would say that you should not use Cognito with a distracted spectator because in most cases you will need their undivided attention.  Some spectator management is required for some of the routines as they will need to follow instruction when reviewing the various pictures.  Not complicated stuff.
A HUGE thank you to Murphy's Magic for sending me the app to review.  I took a good long time to learn and delve into Cognito and I highly recommend this app, although selfishly, I wish it were priced much higher so that it does not get overexposed.  I hope it is used responsibly.
This is superbly amazing and it gets my highest recommendation!