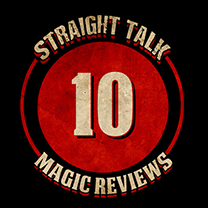 This limited edition is a must have. For only $10 on Murphy's Magic don't wait or you will be too late and then you will be sad (and jealous of those that didn't hesitate).
What are censored playing cards? Look at the ad-copy below and then check back in with me:
"Bicycle Censored Playing Cards, originally known as FCKYRBRND Playing Cards, was designed for those who want something more unique and different from other playing cards on the market.
Printed by the USPCC using their premium stock, the deck also includes an entire custom design, including the court cards, Jokers, and the Ace of Spades. This deck is a Limited Edition release, so once they're gone – they're gone.
"Too many decks follow the same basic concepts these days. There isn't too much originality in playing card design. So, I set out to break that pattern and design something original."
– Joey Minor"
There is no question that this deck is different than tons of decks out there. Almost everything is original.  The card backs have a two-way design that contains weird and colorful cartoonish little creatures.  Some have horns and sharp teeth, some have star shaped eyes, some have band-aids on the faces and they all have blank white eyes.  The border is white, but a bit thinner than your standard Bikes.
The pips and values closely resemble your standard pips and values, but these are a bit smaller. There are two Jokers; one that says "CENSORED" across it and the other with the same word and design, but with the creatures surrounding it.  There is an ad card from Cardistry Empire and a "Thanks" card from Joey Minor for backing his Kickstarter project.  Minor says he is going to be designing more cards and I just can't wait!
The Ace of Spades is the only specialty Ace in the deck with the creatures and "CENSORED" design on it and all the court cards are totally cool. I have included a picture of them so you can see for yourself.  Each court card has several different creatures on it, but they are all the same.  I can't decide which is my favorite; maybe the Jack of Hearts or the King of Diamonds
The tuck box is the playing card back on one-side and some of the original are on the front with the Bicycle logo. One side of the box is printed "Super-Thin Premium Stock – Made in USA" and the other side says "The United States Playing Card Company".  The flap has a single creature on it and the bottom credits Joey Minor as the designer and Riffle Shuffle Playing Card Co. as the distributor.
I have great appreciation for Murphy's Magic for turning me onto these cards. Check out any Murphy's Magic retailer and then pick up these cards… before they are …GONE!