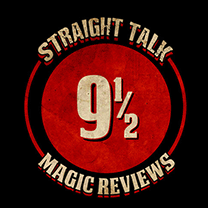 A Charming Chinese Challenge by Troy Hooser is one of the best close-up sleight of hand routines around. This is not new, but it is a revamped version with a new instructional video taught by Troy Hooser and new top quality Chinese coins.
Years ago, I purchased this trick from Vanishing Inc. after watching Joshua Jay perform it during a close-up set. The coins that came with this trick then were a muted bronze color, thin and were different than what you get with this purchase.  The new coins are heavier, a better quality and stand out more with the black and gold color which accentuate the Chinese characters.
With your $40 purchase you get the "new and improved" Chinese coins, the perfect red ribbon and a link to a streaming only 21 minute instructional video that you cannot download. The coins and ribbon come in a beautifully designed box with individual compartments for each coin and a space for the ribbon.  It is a hard black box which you can use for storage of the props because even though you don't need to keep the box, you will feel guilty throwing it away because it is so nice.  The video contains a studio performance by Hooser which takes less than 2 minutes.  Then, Hooser teaches the instructional segment and how to perform the routine.  The teaching is very clear and Hooser goes over the various moves and sleights necessary to perform the Charming Chinese Challenge.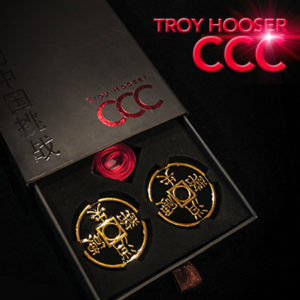 The production quality of the explanatory segment of the video is excellent. It is what you would expect from Vanishing Inc.  The close-up camera work and different angles make it very easy to watch and learn the routine.  This routine is not for a novice, but one can pick it up with the appropriate amount of practice, which may differ depending on your prior experience with coin sleights.
During performance there is some angle sensitivity for a few moments and Hooser highlights these moments. In addition to the basic routine, Hooser teaches some alternative handling. This is not the most comprehensive place to find all the moves and phases you can do with this routine, but it is a darn good start.
The Charming Chinese Challenge is a beast of a close-up routine and it is easy to highly recommend this fantastic product.
Go to any Murphy's Magic distributor or outlet and pick up this killer trick.