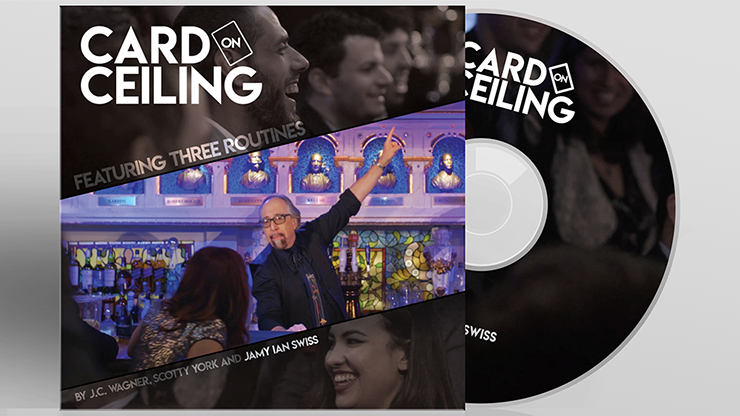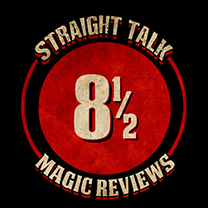 This one hour and six minute DVD is a hyper focused DVD that drills down on the history, developments and varying methods behind the classic Card on Ceiling trick, performed mostly in bars by magic bartenders. As we all know, Jamy Ian Swiss is not only an excellent teacher, but he cares about the origin and growth of the trick over the course of time. I appreciate this attention to detail and am thankful for the education at the same time that Swiss teaches the methods behind this trick.
The ad copy states:
"Jamy Ian Swiss has developed perhaps the most compact, amazing, and practical "Card on Ceiling" ever published, and now he shares the work on video for the very first time – a method you will carry with you every day, always ready to perform this unforgettable feat at a moment's notice. You'll learn every improvement and advantage from Swiss, who has honed this routine to perfection over decades of performances. Jamy also shares two other versions from his mentors and friends: Scotty York, and legendary bar magician J.C. Wagner. Each performer added something new to both the plot and the methods of this routine, and you get to see each in live performance, and learn them all in complete detail. If you have ever wanted to learn this classic of magic, in which a signed selected card mystifyingly appears on the ceiling, this DVD is essential viewing!"
What makes this project particularly important to Jamy Ian Swiss is that two of the versions that he teaches, which are slightly different, were developed by his deceased friends, JC Wagner and Scotty York. You can tell that Smith has a strong personal commitment relating to the presentation of the tricks and the instruction.
In all, Smith teaches the two above-mentioned versions and his own version that uses a different method. The best part of the DVD is that we get to see Swiss perform each version to a live audience in the W.C. Fields Car at the Magic Castle. I am always happy when our teachers show us real performances to real audiences as Vanishing Inc. did here. We learn so much from live performances that are never articulated in methodology instruction and this DVD is no exception. There is one instance when there are some very noisy patrons who Swiss deftly and comically handles so that the audience can hear him perform his routine.
Some versions of card on ceiling may cause a small amount of damage to the ceiling and I would not recommend doing this trick in someone's house! In Swiss's own version, he tips a gimmick that he created and uses to deliver the "stuff" needed to make card stay on ceiling.
I loved this DVD because of the history lesson and the live performances. The price is right and this is a thorough lesson of this classic trick.
Thanks to Murphy's Magic for asking me to review this excellent DVD. It can be purchased at any Murphy's dealer.