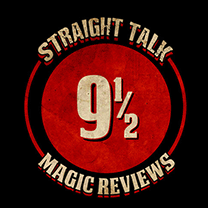 AmazeBox is an excellent name for this product. This awesome switching device by Mark Shortland and Theory 11 is so deceptive and so simple it is amazing.  The possibilities with this clever device are endless.  I totally love this (with 5 exclamation marks)!!!!!
The AmazeBox comes in various colors and sizes. The original Amazebox is white and costs $45.  The second version was the AmazeBox Black which was larger and costs $65.  Now, the AmazeBox Kraft, the third version, comes in a brown cardboard and is purportedly stronger and sturdier then the two predecessor versions.  This version costs $60.
The AmazeBox Kraft is 9 and a half inches wide, 7 inches tall and 7 inches deep. Although it is specially designed, it looks like a normal cardboard box and it is made from a thick cardboard.  With your AmazeBox Kraft you get a 16 minute instructional video that teaches you how to construct the AmazeBox, how to use it and how to handle it.  You are receive a few presentational ideas, but there is no demonstration of any routine.  There is only a brief discussion of ideas you can implement.  Unfortunately, there is not a single performance.  Although I would have loved to have seen a magician use this awesome utility device in the real world, you will have so many ideas popping in your head once you open this device that the video deficiency just doesn't matter.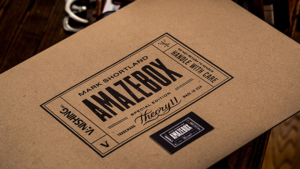 The ad copy claims the following
"There are THREE notable design improvements to get excited about:
1. It packs smaller than previous models, and still packs totally flat. It comes in a gorgeous carrying envelope that was printed on an old-style press.
2. The magnetic locking system and metal reinforcements come already installed which means it will only take you four seconds to assemble when you arrive at your gig!
3. Stronger materials. This cardboard is long-lasting and durable. Unlike corrugated card (of which previous models were made), the AmazeBox Kraft will not buckle or damage, making it perfect for travelling!"
The construction of this version of the Amazebox is simple. It really isn't construction, but unfolding the box and putting tabs and flaps in place.  It is a whole lot easier than doing origami!  The construction should take you just a few seconds and everything is already premade.  There is no need for cutting, taping, measuring or gluing anything at all.  You don't need anything extra.  The device comes with a large travel envelope so you can quickly unfold the box and travel with it in a flat position to avoid it getting crushed.
A few negatives follow, but because this device is so totally awesome it still gets an almost perfect rating. First, you cannot pass the box around before the audience puts in the individualized pieces of paper into the top slot.  That is because they believe it to be empty and if they hold it, they will know that it is not empty.  Because the box is preloaded, if it is shaken, the audience will realize that the box is not empty.  Second, the box remains closed from the get go and it cannot be opened until the spectator is ready to take out the billet, card or whatever.  This is important if you want to show the box empty at the start – you can't.  When opening the box, there is a moment when angles matter and something a bit off can be seen.  This can be prevented if you have the box opened with the spectator standing right in front of the box.  It is true that the box can be opened by the spectator, but you should make sure they are standing in the right place.
Although the hole in the top of the box is big enough to put in a large cellular phone, you cannot put a deck of cards into the slot in the top of the box. I was bummed about this because I thought it would have been great to have the spectators shuffle a deck, put them back into the tuck case and then drop it into the AmazeBox so you could remove a stacked deck just a second later.  Oh well!
This product is guaranteed to work every time and it effortlessly ups your game automatically.
This product is totally awesome. It can be used in any setting.  Stage, parlor, casual, even walk around.  Try this out and I promise you will floor anyone and everyone.  The AmazeBox is one of the strongest and most incredible (and amazing) new utility devices I have seen in the past few years.  This is 100% worth every penny you spend!
Thanks to Murphy's Magic for asking me to give my honest opinion about this product. It is great and can be purchased at any Murphy's Magic dealer.