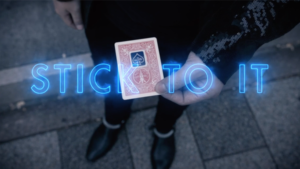 When you buy Stick To It for $29.95 you get an 11 minute instructional DVD, a premade gimmick and a couple of tuck box sticker used during performance. So what's this all about? A spectator picks a card and it is marked on the card back with a tuck seal sticker that comes with every USPCC deck of cards. The card is then lost in the deck. The performer finds a card and shows the face and it is the wrong card and of course, the back does not have the sticker on it. Then, the card is flicked and the sticker instantly appears on the back and the card is turned over and the sticker is there. At that point, the magician grabs the deck, and is able to hand out the card to the spectator.
The ad copy states: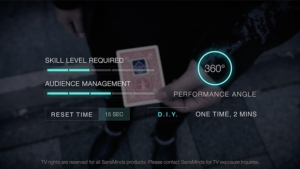 "One of the most crucial ways to make card magic strong, is to ensure your spectator understands their chosen card is 100% unique.
More often than not, when magicians ask a spectator to sign a card, they worry about ruining your deck, so you won't be able to play card games with it anymore.
From our friend Shahrul Nizar in Malaysia, we bring you the perfect trick that takes advantage of this premise. Introducing, Stick To It.
Not only can you make a card unique during your performance, but no one will ever have to worry about ruining your cards again.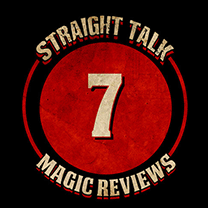 It's visual, practical, and the gimmick is ready whenever you are.
Finally, you can perform a unique effect with a spectator's chosen card, without costing you a card every time."
So here is the deal. This is a super visual trick that looks totally amazing. It is something that will make you look like a real wizard on your social media. However, I do not think this is very practical for real life performances. It really depends on what you want to do with this trick. The gimmick is pre-made, which is not what you usually get with SansMinds. If this gimmick was not premade, no one would make it themselves because it would just be too intensive for the average Joe.
My issue with this gimmick is that it is easily detectible in bright to average lit rooms and it has to be handled with kid gloves. The gimmick is not so stable and sometimes it works before you want it to work. And, sometimes when it works, it does not fully work so it looks like something is off. The gimmick will eventually break as do all gimmicks made with this method.
The DVD has a performance by Jason at SansMinds and then he quickly runs you through the set up and instruction. This DVD is not as well made as your usual SansMinds DVD, but the explanation is quick and easy to understand.
To perform this trick, you need to do double lifts and switches so you are clean at the end. The reset takes about 2 seconds and needs to be done out of sight of your spectators. This cannot be repeated unless you have a really good explanation as to why the selected card is the same card.
I like the effect, but there are too many issues in order for me to feel comfortable using it in any situation other than a perfectly lit digitally recorded and edited clip.
If you want to show-off on social media, you can pick Stick To It up at any Murphy's Magic dealer who sent this to me for my honest review.