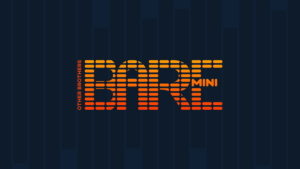 This effect is a release of Bare, just in a smaller version. With Bare or Bare mini, you ask the spectator to pick a card. They hold a business card that the performer gives them and holds it in between their two hands. Then the performer pours some pepper, or dirt, or sugar or ashes on the outside of the spectator's hand and the value of the care appears in the sprinkled substance. When they open their hand, the name of the card is revealed to have been written on the paper the entire time. Or, as the instructional PDF suggests, "a spectator is asked to think of a person's first and last name. The performer attempts to write down the initials and fails. He redeems himself by sprinkling pepper on the back of the spectator's hand and then shaking the remnants off to reveal the initials that they were thinking of only a moment ago!"
With your $25 purchase of Bare Mini ($25 for Bare) you get a special mini gimmicked Sharpie that provides the magic material with a metal loop on it so it can go on a keychain. You also get a small keychain looped twist off contained in case you want to carry around some pepper and a password protected link to a 35 minute streaming video (not a downloadable video) that thoroughly explains how to use the gimmick and perform the trick. You also get a 2 page pdf with instructions. The only difference between the standard version and the mini version is the size of the Sharpie (and ten bucks) which holds the magic stuff needed.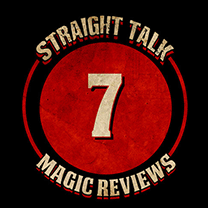 Using this trick required a bit of a set-up beforehand. You need about 3 seconds and you are ready to roll. The special Sharpie contains the special stuff that they credit Loki Kross from discovering. This is very easy to learn and very easy to perform. Any beginner can do this trick or any variation of it.
So, this trick got very strong reactions. Kids really liked this and seemed happy with the effect. The issue I have is that in many places you just cannot sprinkle pepper or sugar (or whatever) on a spectator's hand and then blow it off onto the floor. It works in restaurants or bars where the floor gets a full sweep anyhow, but you may want to consider where you perform this trick. I will pick my spots when and where I perform this trick because I probably won't carry a canister of pepper around with me. I also found that if I do the pre-trick set-up too long before I perform the trick, it didn't always work, so if you are going to perform this trick, you need to set-up right before.
The ad copy states:
"The hit trick "Bare" is back in a new and improved design. Cause a thought-of card, or initials, or a number, to APPEAR ON SOMEONE'S HAND. "Bare Mini" is the same amazing effect as "Bare," but this version comes with a mini-Sharpie and a canister that allows you to carry everything… on your keychain.
The effect is tremendous: you pour coffee grinds or sand or salt onto the back of the spectator's hand and as you rub it in, the lettering appears. "Bare Mini" is completely easy to do and requires no advance preparation with the spectator. The trick leaves no residue or stickiness on the spectator's hands. It wipes away clean.
"Bare Mini" comes with a mini-Sharpie that contains the same amount of the secret solution used in "Bare," but in half the size. And, it comes with a small canister to conveniently store your sand or coffee grinds. As ever, Vanishing Inc. provides fun, detailed, clear instructions so you'll be performing "Bare Mini" within minutes.
Includes gimmicked mini-Sharpie, keychain, canister, and online instructions."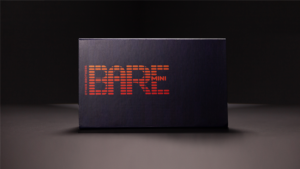 Overall, Bare mini is a very convenient way to travel with a really fun and surprising way to reveal card selections, read minds, and make magical divinations. Your audience will love the effect because it is fresh and new and a bit quirky…in a good way.
This trick can be purchased at any Murphy's Magic dealer and I thank Murphy's for supplying this trick to me so I can give you my honest review and opinion.