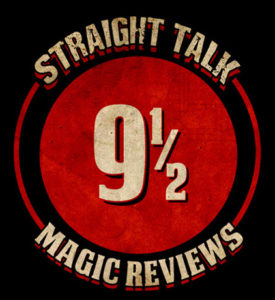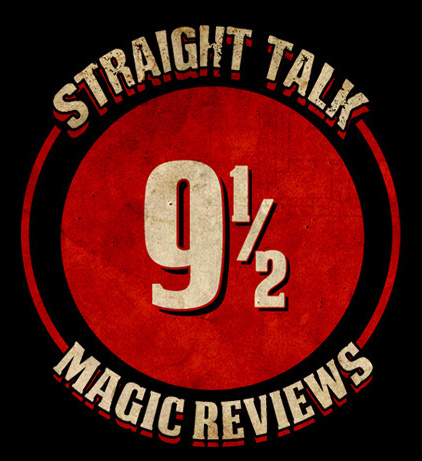 This is the first edition of the "Untitled" playing cards by photographer Adam Borderline. The card backs have a one-way multi color painted design that is described in the ad copy below.
With your $15 purchase of this limited edition deck of cards you get 56 cards. The standard deck manufactured by the USPCC and a few extra cards. Of course, the double backer, two Joker cards that a multicolor design that looks like a watercolor painting and what seems like an ad card that has the creator's initials "ab" in several colors on a black backdrop.
The cards themselves have a thin white border on the backs and a cool painted design that looks like a multi-color abstract painting.
Most of the cards are indistinguishable from your standard bikes, except the blue color in the Court cards has been replaced with black. However, the Ace of Spades is an enlarged spade with multicolor detail from the card back. It is a very cool Ace with the word "UNTITLED" under the base. Each card in the Spade suit have an altered spade or two with design from the card back that is very cool. The tuck seal is a custom sticker with a black backdrop and the initials "ab" in multicolor letters.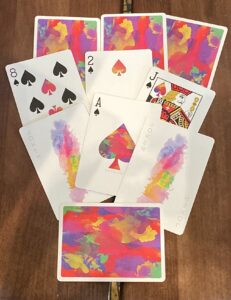 If you go to the creator's website: www.adamborderline.com it says that the cards are sold out. However, as of the writing of this email, there are still some available at Murphy's Magic: https://www.murphysmagic.com/product.aspx?id=62817 .
The ad copy states:
"Untitled Playing Cards represents the fluid nature of our art. A distinct color palette, within different shapes, leads you into the abstract world.
The Cards:
Printed by the USPCC using their premium crushed stock, traditionally cut. Custom one-way design, Jokers, and Ace of Spades. Spade pips altered at random to include the back design for a striking contrast. Limited edition of 2,500. No reprints — once they're gone, that's it.
"I've always had a fascination with abstract art, it's raw and unconventional. I really wanted to portray that in this deck. Untitled Playing Cards offers a freedom from constraint, pursue your creativity."
– Adam Borderline"
The card box is multicolored like the back design. The box's edge's has the words "FLUID CARDS" in all caps and the top edge of the flap has the initials "ab" like the extra card described above. This is the first edition of the Untitled series, the second edition has a different back design and it too is sold out on Borderline's website.
These are really cool cards and they are aesthetically appealing.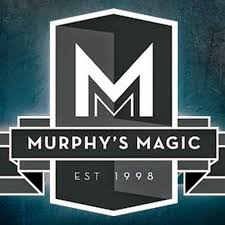 I don't know how many decks are left, but if you are interested in them, check out any Murphy's Magic dealer.