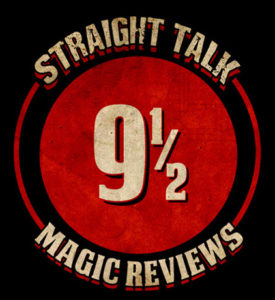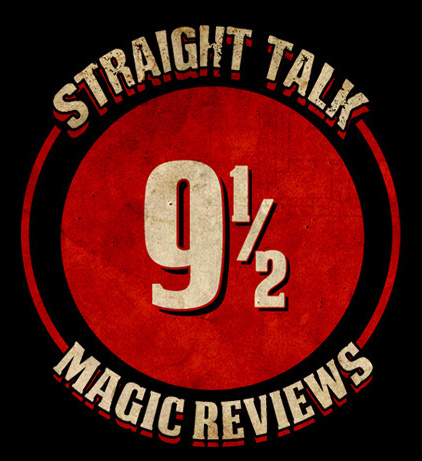 Big Blind Media has a knack for cultivating collections of superb magic from a cast of magi that we have all come to know. Francis describes this project as his greatest hits over the last many years and the collection is indeed great. Francis redesigned many moves, tricks and plots while adding his own personal touch to several tricks.
The opener, Redoner, is performed in the Big Blind Media red room with Francis performing the trick and Francis also observing the trick as the spectator using some sort of overlay technology. The dynamic between the two is one of slight friction and annoyance as the spectator version of Francis is a bit flamboyant and annoying to the performer. It is amusing to watch. The trick itself is a combination of a Triumph and color changing effect borrowing from a Paul Harris effect. The trick may not be fooling to magicians, but may surprise them in the end. The trick is explained by Francis to Liam Montier.
Collins Thing is a great trick in which 4 kings vanish and reappear. It is Francis' version of a trick that combines Collins Aces and a Richard Sanders trick, King Thing. The process of losing and finding the kings is excellently structured and it is a great, great trick.
Jack Switch II (two) is another beauty. Here, Francis has two selected card lost in the deck to be found by two Jacks in a fun way. When it comes time to explain the trick, Francis starts off with fellow magi Jack, who instantly disappears and in his place Liam Montier appears. Big Blind Media is starting to have some fun with their production and editing and I like it! There is a really cool move here that can be applied to other tricks.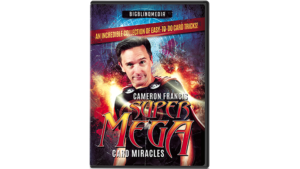 The next two great tricks are entitled "Thanks to Walton" and "Precursor" which are impromptu packet tricks that uses a bunch of counts that results in black number cards turning into red numbers cards and then turning into Aces Very strong and direct.
You have tons to learn here with a very cool and impromptu card to impossible location with Mercury Card Load. One Flew Over at at My Behest is a cards across routine that is simple and direct and borrows a move from John Bannon's publication Mentalismo.
The ad copy states:
"A mega collection of closeup card magic miracles from actor/magician/international-man-of-mystery Cameron Francis. Super Mega Card Miracles is the definitive collection from this renowned Floridian pasteboard tamer.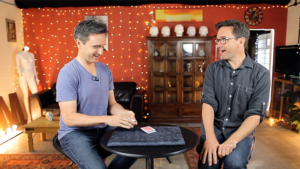 It features Cameron's absolute favorite Top 10 (except there's 12) routines from nearly two decades of creating. These are the tricks he has honed, sharpened and refined and now calls his party pack. These are his audience slayers… his own personal rat pack… the crew he calls on to take down anyone/everyone.
Blockbuster routines, ingenious (and easy) handlings… this is distilled Cameron Francis. Commercial, engaging, FUN magic.
Card tricks you WILL PERFORM!!!
Featuring:
Redoner – A killer new take on "Color Stunner".
Collins Thing – The four Kings vanish under test conditions and then reappear in a dizzying array of awesomeness.
Switch Jack II – A one-two punch sandwich routine that'll leave your spectator's brains in traction.
Precursor/Thanks To Walton – Two brain-buster pieces of strange that packs a ton of magic into only a few cards.
Easy Hof – A turbo charged variation of the Hofzinser Ace Problem.
Mercury Card Load – Signed card to ungimmicked card box. We guarantee YOU WILL USE THIS!
But Not Least – This high-octane triple sandwich routine will leave your spectator's breathless.
Stand Up Christ Aces – The classic routine stripped down, rebuilt, and cranked up to 11.
One Flew Over at My Behest – A lean, mean, impromptu card across routine.
Collector's Item – The four Kings capture three selections in the fairest, slickest, most rock star way possible.
Captivated – Four Kings and four Aces twist, twirl, switch and then stick the landing with a shock-o-rama ending.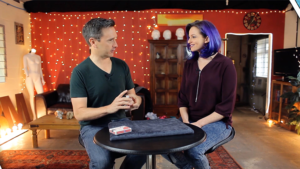 Francis borrow quite a bit from other magicians, but then makes it his own and studiously credits those due.  This is another superb production by Francis and Big Blind Media and I highly recommend this one for those that want to venture beyond self-working card tricks and start using some sleight of hand. This is a great collection of tricks.