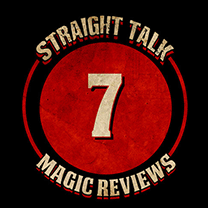 John Carey is back again with 10 tricks presented and taught in the Big Blind Media studio. The following is a brief description of the tricks included.
Somewhere Over The Rainbow is a great trick using a rainbow deck. It has two very strong moments of magic. The first is when you cut to the four Aces from what appears to be a standard red backed Bicycle deck. The second is when you reveal that all the other cards in the deck are the colors of a rainbow.
The Perception Shuffle is a great fake shuffle that is so super easy with some inspiration from Gary Oullet. Although it seems so obvious once Carey explains it to you, it is quite fooling.
Don't Make Me Cross is a trick in which the mentally spectator selects one card from an in-the-hand fan of a deck. In order to perform this trick you will need to have a few extra cards prepared in advance. After the spectator reveals the card they selected, it is removed from the deck and shown to be the only blue backed card (with an "X" across the back") in a red-backed deck. It is easy to do and very effective.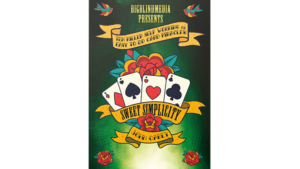 The Spectator Star is a good and easy trick that will fool your spectators, but not your magician friends. Although it does require a quick 3 card easy set-up, it is something that you can do in front of any spectator on the fly. He took inspiration from Dani DaOrtiz, who in turn was inspired by another magician. Although very simple, it is fooling and easy to do. In sum, you give the spectator a deck of cards, they cut the decks and end up with Aces on the top of each pile.
Entrapment is a sandwich effect that is an easy effect that relies heavily on the down under deal. This is a good trick to perform for those that do not see a lot of magic, but the peek portion of the trick sort of ruins it for me and it may for your experienced spectators.
One Thought One Spell is a prediction effect in which the magician writes down a certain card after the deck has been shuffled and displayed as a well-shuffled deck. The spectator cuts to any card and the performer apologizes that is not the prediction card. However, immediately after apologizing, the performer spells the name of the wrong card and ends up on a single card that matches the prediction. Again, this trick is not for me based upon the spelling methodology. Too much thinking and too much counting for me.
The Trick That Can Be Explained results in a predicted card being revealed after the spectator shuffles the deck, chooses 6 cards and does some dealing. There is a bit of superfluous patter relating to the "perfect number" before instructing the spectator to deal 6 cards. Then, to get to the right card, there is a bit of jazzing that you need to do and some of the methodology I find to be too obvious. I also cannot stand the hotrod selection method. Overall, I find this trick to be a bit weak, but I do like part of the methodology to ensure that your prediction card will always be where you want it to be even though the spectator shuffles. That one nugget is worth the time it takes to watch an otherwise mediocre trick.
Technicolor Reset is a quick card trick that uses several Jokers, some red backed and some blue backed. The trick is a cards across trick in which the blue backs switch places with the red backs and then back again. It is a nice one with minimal sleight of hand. There are several counts, moves, steps, pushoffs and sleights to remember in the right order to perform this trick.
Five Oh?! is a trick that has several moments of magic that requires you to have a dedicated deck of Jokers. This seems to throw the kitchen sink into this routine with a few predictions of the same card, the reveal of a chosen card and the revelation that the entire deck consists only of Jokers.
I would say that without doubt my least favorite trick is 1 in 52. The ad copy claims that the trick is streamlined, but I think the first step in streamlining this trick is too obvious for anyone. The rest of the trick relies on equivoque, which is good, but I am too bothered by the obvious first step. As a result, I do not think I would ever attempt to use this in front of real spectators. If you do, I think you leave yourself open for getting called out.
The ad copy states:
"Bigblindmedia presents: Sweet Simplicity with John Carey
John Carey has built an international reputation for his streamlined approach to card magic. Simplicity of method and great routining equals great magic that is EASY to do BUT still utterly fooling! On Sweet Simplicity you'll find ten self working or super easy to do card tricks that will slay any audience. Simple to perform they may be – but the effect on your audience will be KNOCKOUT!
FEATURING:
1 in 52 – Carey's self working streamlined imaginary deck routine is a total worker.
The trick that can be explained – Carey's spin on a Dai Vernon classic. Devious!
Technicolor Reset – Four blue backed Jokers transpose in slow motion with four red backed Jokers in an exceptionally clean manner and then immediately transpose back in a flash!
Five Oh?! – Semi automatic card magic on steroids, where you get five effects from practically nothing. Super strong and so much fun!
The Perception Shuffle – A self working false shuffle. Yes, you read that right!
Spectator Star – Make your spectator the star as they shuffle, cut and turn over the aces. Boom!
Somewhere over the rainbow – John's rainbow deck is a thing of beauty. No sleights, just pure subtlety.
Don't Make Me Cross – Carey's ungaffed Brainwave effect where the card they think of is the only odd back card – so cheeky and yet SO strong!
Entrapment – A really cool, self working slow motion sandwich effect that you will love using.
One thought One Spell – A very subtle spelling effect you will want to add straight to your repertoire."
This John Carey project is very similar to his others in that he takes inspiration from other magicians and reworks tricks and adds his own patter. There is nothing too difficult in here and, as described above, you will find some gems in this collection.