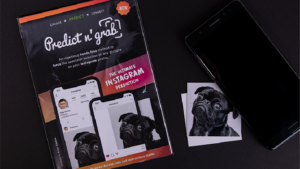 This is smart phone magic.  Most phone magic sucks.  This is great!  In a nutshell, you take out your phone (iPhone and Android) and open up Instagram.  You show the spectator your instagram posts and scroll through dozens and dozens of your photos.  You then turn your phone face down and have them scroll through the pictures "blindly" and stop whenever they want.  Neither of you see what picture is stopped upon.  The spectator can look at it and you can read their mind, or neither of you can look and you can predict what picture they stopped upon.  It is a very fun and cool way to perform a mentalism effect.
Instagram is currently one of the most popular apps and the timing of this trick is great!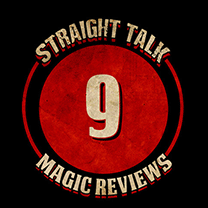 ad copy states:
"Predict n' grab is the most technologically advanced app to force any picture or video on your Instagram profile. Our innovative hands-free forcing method is 100% reliable, as it was developed with the professional magician in mind.

When you perform Predict n' grab, there are no sneaky moves and no hiding stuff – everything is under your full control. Triggering the force is as clear as it can be and it's all pretty much self-working from that point on… so you can focus on your performance.

Three routines are included, one using both the magician's and spectator's phone.

Photo match routine:

Ask someone in the audience to search for your account on Instagram. Take their phone and briefly show off your media. Say that you're going to make a prediction of a picture and don't let anyone see it. Lock the screen and get the audience member to hold the phone in full view throughout your performance.

Open Instagram on your phone and ask another spectator to hold it and to do a blind scroll through your media (magician is now hands free and they can stop anywhere they desire). Turn over both phones and, magically, their selection is revealed to match your prediction!

Looking for a kicker ending? Introducing photoGrab: a bonus feature that allows you to cleanly pull out your prediction (printed on paper) from your device. Hand out an amazing souvenir that your spectators won't forget.

Predict n' grab is fully customizable: upload your force picture directly from your device's camera roll (later injected on your profile) or choose it to be one of your own existing Instagram media.

Predict n' grab works both on iPhone and Android devices. No actual app downloads are needed. Comes with video instructions, one very special access code plus one courtesy photoGrab pack.

Perform cutting edge impromptu social media magic.

Go show off, connect and get followers.

Predict n' grab is not sponsored or endorsed by Instagram."
With your $35 purchase you get a pamphlet with a secret code that allows you to sign up for Predict n' Grab and access the web-based program that looks like an app on your phone.  You also get a pre-printed photo that allows you to perform the "grab" function along with a blank board so you can design your own.  You also get access to an hour and ten minute instructional video that teaches you how to sign up for, install and use the program.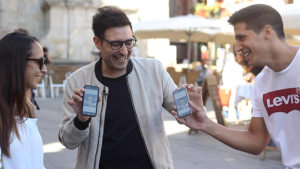 When reading this review, you should know that, I really like this product.  So, you can take the criticism that follows with that in mind.  I did not find the instructional video to be very helpful and it was poorly organized and way too long.  I found it hard to watch. It was hard to get through the video the first time around.  The camera repeatedly goes out of focus and Artur apologizes.  Instead of having the phone mounted, Artur holds it and you can see his thumb, which looks like he was injured.  The entire video should have been 25-35 minutes and it should have come with a two page set of written instructions.  Just too long and too slow!  But, in the end, you can get what you need from the video and start performing.  That's when the fun starts.
Since its original release, there have been some upgrades as a result of community feedback through the private Facebook group, which is great!  Now, you can do the trick two times in a row with different results.  The Instagram that the spectators sees does not have all of your photos and it is not fully functional.  You can see 50 of your most recent photos.  What the spectator sees looks almost completely identical to the real Instagram app, but it is not and not all the buttons work.  That really isn't a problem and I have not found spectators that want to play around and explore your Instagram account on your phone.  Although you use your phone and open the "Instagram" app icon, you can use your spectator's phone in the photo match routine.  In that routine, you pull up your Instagram page on your spectator's phone and choose a photo.  You then have then blind scroll and the pictures match.
The photo grab routine ends in you pulling out the selected photo from the phone and a blank white spot is left where the picture was.  Although some people really like this routine, I don't.  I think the method is pretty much obvious to everyone in the world now.
Predict n' Grab is a great routine to perform anywhere and anytime.  We all have our phones with us 24/7 and now you are always prepared!  It is a new way to do a mentalism routine and it pretty much fools everyone.
I appreciate Murphy's Magic providing this trick to me so I could give you my honest review.  And, of course, Predict n' Grab is available at any Murphy's Magic retailer.