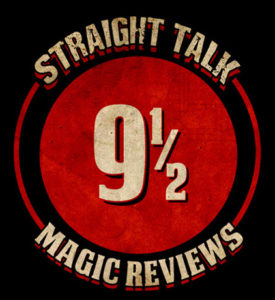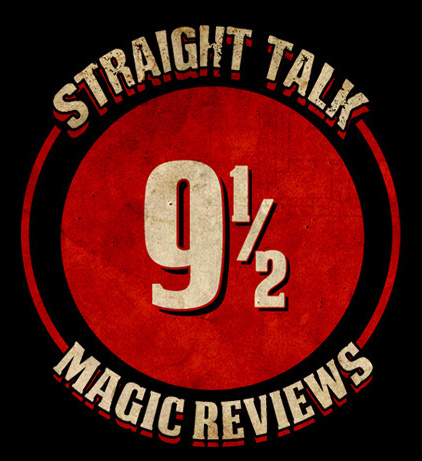 Deep Clear is a perfect example of one of the most astonishing creations by Paul Harris.  Most of the time, when a trick is packaged with the "Paul Harris Presents" brand, you know it is going to be strong, amazing and quality.  Yes, you may find an exception to that general statement, but the rule pretty much holds true.  The description below from the ad copy basically describes the effect.  A spectator selects a card and either thinks up a real 3 or 4 letter word or just makes up a nonsense word (such as "VISH" or "GFWT") so long as the letter as not repeated.  The spectator's chosen card is found and then a tiny and slim wallet that has been sitting on the table the entire time reveals that the 3 or 4 letter word is printed on the back of playing cards; one letter per card.  The effect is truly amazing and impossible.
 With your $39.95 purchase you get a specially arranged deck, a special card-size wallet and a password protected downloadable instructional videos and downloadable pdfs.  The Deep Clear instructional video is taught by Shaun Jay and is 35 minutes.  The video is excellent and goes over everything you need to know in great details.  It has video of the performer point of view which is really helpful to teaching the routine.   There are a few steps to this trick, but it is nothing difficult and it is easy to learn.  The trick is also very easy to perform.  Although I personally don't love the suggested patter, you can modify and adjust it to your own taste.  Also included is an excellent alternative performance and instructional video.  I really like with Loosley did with the presentation and I think he made the trick much stronger.  Well done!  There are additional tips in pdf and the original predecessor trick, which you can review, but it is not necessary to learn or perform Deep Clear.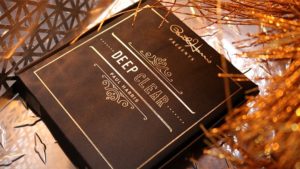 I would suggest running through the routine a few times in the mirror before you take it on the road even though it is very easy to do.  The entire deck cannot be handed out, but because you hand out half of the deck to the spectator, they may not want to inspect the rest.  Also, the wallet cannot be handed out at all so you have to quickly put it away after you take out the cards with the magic word written on it.  The gimmicks included come on Bicycle stock cards, although if you were really motivated you could probably remake the gimmicks on whatever cards you wanted.
The ad copy states:
"The brilliant evolution of Deep Astonishment
PAUL HARRIS PRESENTS DEEP CLEAR
THEIR FAVORITE WORD IS INSIDE YOUR CLEAR WALLET!
Paul Harris' Clearest Deepest Astonishment is a bullet-proof Masterpiece.
A window-ID-wallet VISIBLY holding a small packet of cards is placed on the table.
Anyone FREELY calls out a short, favorite word or name.
Let's say it's ZING.
She uses her magic word ZING for a fast, fun Card Mystery
But that's just the Deep Clear warm up…
Your empty hands pick up the clear wallet and slowly slide out the cards that have never left her sight!
Drawn on each card is a single large bold letter.
The letters spell out a single word…
Z..I..N..G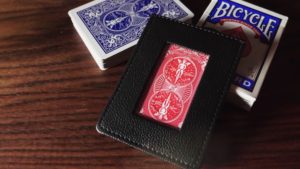 Her favorite word has been inside your clear wallet the ENTIRE TIME!
Paradigms popped… Stunned Silence… Deep Astonishment
Paul Harris' Deep Clear is the culmination of Over 20 years of experience with his original Deep Astonishment concept.
Deep Clear has a dramatic new gimmick and new structure. Everything about Deep Clear is faster… Easier… more convenient… and more open (your spectator can even shuffle her cards).
Deep Clear is an authentic PH masterpiece exquisitely designed to be your transcendent last-gasp show-stopper.
* The New skinny Deep Clear Wallet is a joy to use.
* One touch and it's done. Easily fits in your shirt pocket.
* Prediction cards have a DIFFERENT COLOR BACK than deck.
* No force: use any short word with different letters.
* No palming. Very easy to do.
* No cue cards or memory work.
* No secret writing.
* Adapt to your favorite deck backs.
* Draw your own prediction letters in any style or colors you'd like.
* Works in ANY language!
Comes complete with ready-to-use gimmicks and USPCC deck of cards.
EXPERIENCE THE EVOLUTION OF ASTONISHMENT TODAY!"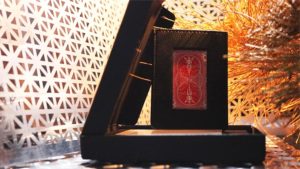 This trick is really awesome!  It is a nuclear explosion.  The fact that any 3 or 4 letter word that the spectator merely thinks of appears written on the back of playing cards inside a small wallet that has been sitting on the table the whole time is just impossible to figure out.  It is true astonishment.  I would have given it a 10 out of 10, but I felt that the wallet was a bit cheap and mine ripped slightly (which did not affect my ability to perform it).  I love this trick and highly recommend it to any magician of any level.  Great for anywhere and anytime.
Thanks to Murphy's Magic for sending this to me to review for my honest unbiased opinion.