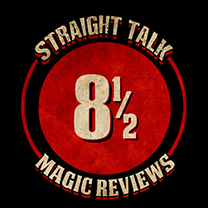 Lucid Dream is a very quick and very cool effect.  The suggested patter relates to a dream that the performer had that he did a card trick and a selected card in his dream may just be the one that the spectators select.  But, sometimes dreams turn into reality, or do they?  The performer takes a picture in a paper frame out of an envelope and in the picture you see a hand holding a red backed Bicycle card.  The spectator picks a card from a real deck and then looking at the photo, the performer grabs the card out of the picture and that is the selected card.  All that remains is the paper frame and the actual card.
This is extremely visual.  It is great for social media showcasing your skills.  It is also good for walk around so long as you are in a dim area.  You do not want to perform this in a very well lit area.  SansMinds says that you need 1 out of 5 in skill level to perform this trick and I would agree, although it will take a bit of practice and timing to get it down just right.  They also say you need a 1 out of 5 in audience management, which I also agree, but you need to be ready for grabby spectators.
With your $35 purchase you get a 41 minute DVD which has a heavily edited live performance (by Jason Yu – who is the creator).  The instructional video is mostly explanations on how to build the gimmicks with the supplied materials.  You do need to supply your own tools and arts and crafts materials, but if you make magic gimmicks you probably already have everything you need.  SansMinds says that it will take a one-time investment of 15 minutes to make the gimmick, but I think that to be fair you should a lot 30 to 45 minutes.  If you mess up the construction you will need to find some materials to start over.  I did not mess up and I think this is not that hard to make.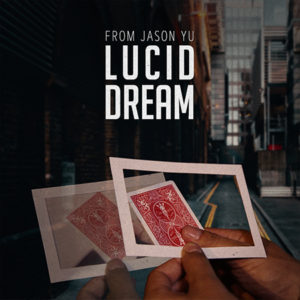 Performing this trick, as mentioned above, requires timing and good hand-eye coordination.  It is not hard to learn or perform, but will definitely require a small amount of practice.  I do think that the gimmicks will need to be remade after taking this out on the road a bit and that is a hassle.  I always wish that SansMinds would make gimmicks for us.  In this case, I wish they would have supplied a sturdier pre-made frame.
The main routine is plucking a card out of a picture, but you can also do it with a deck of cards, although I did not construct that gimmick (you sort of have to choose one because of the supplies you have) and I think that is not as good.
The ad copy states:
"Remember Imprint, Extract, and Got Change by Jason Yu?
Jason's unique approach to visual magic has taken the magic community by storm. This time, Jason is sharing an underground effect he has been perfecting for the past four years. A practical visual effect you can adapt to your favorite card routine.
Welcome to Lucid Dream, a visual that's backed up with a concept that's so strong, it blurs the line of dream and reality.
– Completely customizable to produce a card, card box, and bills of your choice.
– Fully customizable with your hand size/color.
– Comes with 1 gimmick pack, with sample photos you can work with right away.
– Instruction DVD"
The performance angles are somewhat sensitive, but not terrible.  The reset takes about 5 seconds and can be done with your back turned.  You cannot allow the spectators to inspect the picture before it is transformed and you have to complete the routine before the spectator can handle the card.  It's all about cleaning up, which is taught and is very fooling with the gimmick you will build.
This product would have rated higher if the gimmicks could last longer with sturdier materials and if it was prebuilt.
The effect is very strong and shocking to your spectators and is a great way to do a card reveal on steroids.  I can get behind this for the right place and time.
This trick is available online at any Murphy's Magic dealer, who sent me this trick to give my honest feedback.  I am glad that they did!