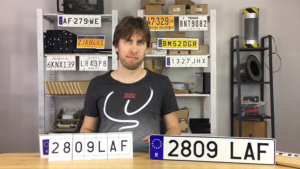 This is a different and easy way to make an impossible prediction come true and prove it in a unique way.  So, what's this all about?  You have a sturdy heavy cardboard rectangle that looks like a license plate with all the numbers and letters (see the picture) on a spiral pad.  Let's say the license plate number is "ABC-1234"  Each number and letter has its own pad attached to a spiral.    So, for each position there is a stack of different characters that you can flip to and make different combinations.  The point is that there are at least 9 different characters in each spot.  So, with a license plate with 7 characters, there are over 4 million combinations of different plates that you can make.  If you don't understand this look at the pictures.  The license plate can be from California, Florida, New York, Texas, France, Spain, the UK, Japan or a vintage looking plate from British Colombia.
The performer shows the plate and the different possibilities by scrolling through the 7 difference spiral pads.  The spectator randomly flips the pad to a number and the perform then takes out an actual license plate – yes real metal – and the spectators one in 4 million plus "randomly" selected combination of letters and numbers matches the real license plate exactly.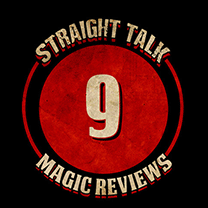 This trick applies a very old and common principal and it is really fooling for lay people.  Really amazing!  The trick is easy to learn and easy to perform, but you need to have some decent spectator management skills so that they don't mess up or discovery the method.  They need to be guided down a path and you cannot pick a wild or unruly spectator.
The ad copy states:
"This is a prediction of an entire license plate with audience involvement!
The magician shows different numbers and letters on a license plate-style pad. The combinations are endless.
One or several spectators choose freely, a letter or number at a time, to create a unique license plate.
Magically, the magician then reveals a metal license plate that matches the chosen one exactly!
This can be themed as either the magician knowing ahead of time what license plate would be created by the audience, or the audience has some special ability to predict the license plate hidden by the magician!
Key points
Spectators choose all numbers without the magician touching or forcing anything
Extremely easy to perform
Fits any kind of show — kids, adults, comedy, mentalism…
Perform surrounded
Packs very small but plays huge!
Prediction is made of embossed aluminum
This is an Open Source magic trick, and you will have access to all the files, so if you want to create your own version, or make any modification, you will have instructions and templates to create it
Choose between 10 different models available to make it fit your own presentation and show: California, Florida, New York, Texas, France, Spain, United Kingdom, British Columbia (vintage model), Japan, Italy
What you will get?
A special pad, with numbers and letters that resemble the license plate that is chosen by spectators. Includes: polyester sheets, very resistant, to last many years. Rigid back cover for easier handling. Spiral binding so the sheets slide easier. Semitransparent front cover
An aluminum license plate, replica of the original
Access to instructions and presentation suggestions"
The trick is a bit expensive so you will not see this anywhere and everywhere.  This is a quality piece of magic and you get what you pay for.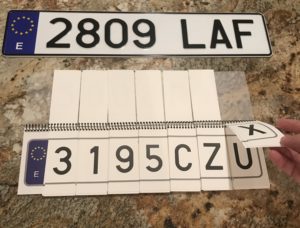 The instructional video is almost 10 minutes long and is presented by the creator in Spanish.  You can watch the video with English dubbed over the original instructions.  The creator presents the instructions while sitting behind a desk and not in a studio.  The instructions are very easy to follow because the method relies on a principle that we all already know.  Unfortunately, there are no actual performances, which I always like to see.
You are also given access to various templates and open source documents that can help you adjust the license plate characters, which is beyond what I would be willing to attempt.  The Spanish license plate prediction is "2809 LAF".  Wouldn't it have been great if the plate was "2849 QAK" so you can also deal "random cards that match the plate, with the Q, being the Queen, the A being the Ace and yes, the K being the King.  Hint, hint, hint!
This trick can be used in so many different forum.  I presented this close-up to friends and family and the reactions were phenomenal.  You can easily use this in a parlor setting or on stage.  This is a unique presentation of an easy to do mentalism effect that is going to kill your spectators.
Thanks to the creator and to Murphy's Magic for sending this to me to review.  I am a big fan!  If this is interesting to you, you can find it online at any Murphy's Magic dealer.