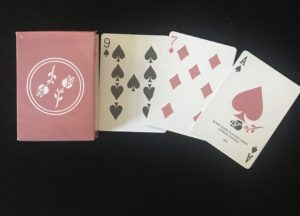 The Black Roses Altrosa edition is a limited print of playing cards that you may want to grab.  The back design looks like an ordinary design, not too fancy, and will not raise eyebrows.  That does not mean that the design is not beautiful or worthy of admiration, because it is both.
With this deck you get custom court card pictures, a zero of diamonds, two beautiful jokers with black rose bud designs and pink stems, and a double backer with the regular pink back and a blue back.  Of course, the Ace of Spades has a custom design with a large pink spade shape and a rose under the base of the spade.  The back has a slim white edge around the card that is thinner than your standard bikes.
The back design, seen in pictures, is a two way design that has roses in the center, on he edges and in the corners.  The art work is simple and not overdone and is a real keeper.  There is nothing special in the pip designs except that the black color in the spades and clubs is faded slightly and the pink color in the hearts and diamonds is the pastel pink that matches the backs.  The court card faces are custom and cool looking and they must be the designers friends, but I don't know who they are.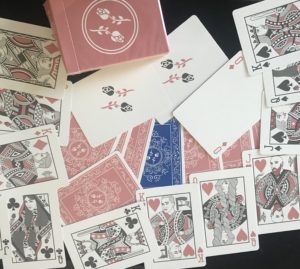 The ad copy states:
"LIMITED EDITION: Only 2900 printed! Will NOT be reprinted.
Color isn't just important in fashion. The color of your deck is a statement and it reflects your personality. You have plenty of possibilities today, but the Black Roses Altrosa Playing Cards stands out with its dusky pink color. Gentle and yet meaningful. Not too fancy, to distract the spectator from your routine. But an eye-catcher with which you are fully in line with the trend.
Daniel Schneider – who began designing the Black Roses Altrosa Playing Cards right after he finished the 7th edition of the Orbit deck – also redesigned the face cards in this deck. No two Black Roses decks look alike, so you get more than just another colored deck.
The Black Roses Altrosa Edition is the fifth deck in the Black Roses series.
Manufactured by the United States Playing Card Company
Printed on Premium Crushed Paper Stock
Traditionally cut
Custom front and back
0 of Diamonds gaff card
Limited to 2900 decks"
The box is also the pastel pink color and one side has the back design and the other side has a and enlarged graphic of the center roses from the back design  The cards are designed by Daniel Schneider and boy did he do good.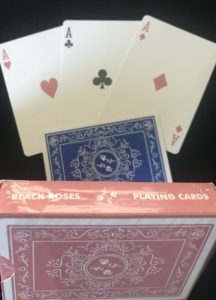 I really like these, they handle well and are very attractive.  I like the extra cards and the design and I am guessing so will you.
Big thanks to Murphy's Magic for asking me to review these cards for you.