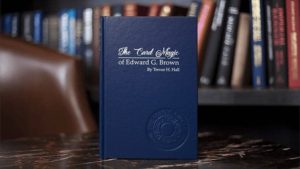 Edward G. Brown was not a professional magician, yet he was actively involved in his local magic organizations.  He was considered one of the, if not the greatest sleight of hand card magician in England during his short time on earth.  Born in 1893, he died, suddenly in 1947.
What was most interesting about learning about, and in a way, from Brown is that I had never heard of him before.  In fact he apparently was a long forgotten magician, with a wealth of his magic gone forever, with proof of his existence in magi publications from the 1920 and later.
If you love a story, this book comes with a great one.  The author of the book, Trevor H. Hall, befriended Brown and he received over 80 letters from Brown over the course of just a couple of years in the mid 1940's.  Hall and Trevor spent little time together in person, although they stayed at each other's houses when travelling.  It is the letters from Brown that form the basis of the book.  In some cases, the letters were published and the reader learns from Brown's words directly.  Having died shortly after performing for the Magic Circle, Brown was never able to write the book of his magic that he had intended.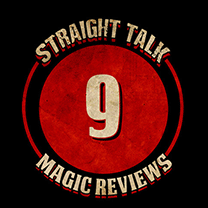 Decades after his death, in fact about 26 years after, Trevor Hall published some of Brown's magic a resuscitated Brown's memory.  Known as a great card handler by accounts from the time, it feels like a privilege to read this book.  If it were not for Andi Gladwin and Vanishing Inc., this book would likely not have been republished and the original first run of 500 copies would not get the attention that it now has received.
The book itself is a blue hard backed book with silver writing on its minimalistic exterior.  It contains 191 pages and includes pictures of Brown, about 17 tricks that are explained, and the republication of several Brown lectures, including "Forcing", "Misdirection" and "Sleights and Subtleties".  Importantly, you also receive a 30 page mini book entitled that "Study Guide" written by Andi Gladwin.  The Study Guide fills in many gaps in Hall's crediting and historical context.  The book and Study Guide come in a nicely designed and felt lined box that conveys the importance of the work presented.
Some of the original text of the Hall book was lacking for me and will require a return to the passages to completely understand the message.  However, the book itself is really fantastic.  This is not just a book that teaches a dozen and a half tricks, but it is a look back in time.
The ad copy states:
"          "England's finest sleight-of-hand performer."
– Dai Vernon
The 1930s and 1940s were exciting times for card magicians, and while many magicians actively performing during those times have become lasting names, Edward George Brown was sadly not one of them. Luminaries from John Ramsay, Dai Vernon, and Charlie Miller wrote that Edward G. Brown was one of the finest sleight-of-hand artists of all time, yet his presence is all but forgotten, almost certainly due to the scarcity of his astounding book, The Card Magic of Edward G. Brown.
Working with The Magic Circle, Andi Gladwin has reproduced this rare book, and combined it with a thorough analysis of Brown's life's work in a separate "study guide." The two books come packaged in a beautiful collector's slipcase, raising the standards of how a magic book should be produced.
Brown's book is a view to card magic of a different era. The book contains an equal mixture of parlor and close-up card magic: some easy, and some difficult. Brown was one of the earliest proponents of "naturalness" and "uniformity of action," and much of the material is as relevant and interesting today as it ever was. Amongst the many treasures created by Brown, you'll learn the trick that Andi Gladwin believes is one of the best-constructed card tricks of all time; the transposition of a genuinely freely thought-of card from one spectator to another. As you read each trick, you can use Andi's study guide to learn more details about the method. On occasion, you'll even learn extra handlings (including a previously-unpublished Dai Vernon effect).
Books like this come along all too rarely; a sought-after text, analyzed by an expert in that area. If you appreciate fine card magic, this two-book set deserves a place on your shelf.
"Vanishing, Inc.'s gorgeous new edition of the excellent and previously highly sought (read 'expensive') classic Card Magic of Edward G. Brown is special in every respect. The card magic in this book is still very worth your study. Brown was a remarkable mind whose thinking was respected by Dai Vernon and many others. This reincarnation is beautifully done in all respects, and Andi Gladwin's accompanying notes give new and welcome insight into the material. I can't think of a single reason not to recommend this work most highly."
– Stephen Minch
"When I first began to study card magic seriously, Bob White taught me his handlings of two effects by Edward G. Brown: 'The Twelve Card Thought Transition' and 'The Spelling Trick.' Versions of these two excellent performance pieces remain in my repertoire to this day. Now, thanks to Vanishing Inc., Brown's material is available to another generation of students. Their reprint of The Card Magic of Edward G. Brown is not merely a collector's piece that will look [great] on the bookshelf; more importantly, Andi Gladwin's insightful notes make it an example of the kind of scholarly work our magical literature deserves."
– Jared Kopf
"A beautifully produced tribute to Edward G. Brown's classic text. Andi has done a wonderful job bringing it back to life."
– Scott Penrose, President of The Magic Circle
"What a fantastic book about the life of Edward G. Brown. Not only do you get insights into his life, but also, you'll get his take on classic card tricks. This book contains some extremely clever ideas and the thinking and theory behind those ideas. And, it's beautifully written and designed. Highly recommended."
– Jason Ladanye  "
Unlike Copperfield, I have a limited amount of shelf space.  The Card Magic of Edward G. Brown is worthy of the real estate it takes up for so many reason.  When reading this book, you may feel like you have been given a peek into long lost secrets and I highly recommend this book.
If it were not for Murphy's Magic, I would not have read this book which is available at any Murphy's internet dealer.