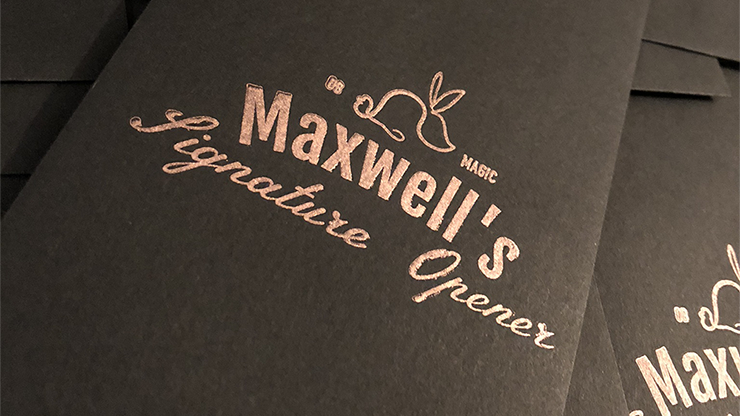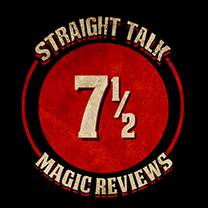 Instantly turn a golf pencil into a Sharpie? Yup, that's right! That's the trick. One, two, three and you are on to the next bit.
The trick is very easy to learn and it is very easy to perform. There are angles that you need to be aware of and the best placement for your spectators is directly in front of you. So, the pencil can be displayed, but it cannot be held. The appearing Sharpie can be handed out and used by a spectator to sign a card immediately after the pencil transforms into the marker. It will pass inspection, but not a super sleuth investigation.
The trick comes in a black envelope with everything you need including a link to an instructional video. The video starts off with an introduction by Maxwell. The Other Brothers finish the video with their instruction and demonstrations of the trick. Maxwell reveals one secret and the Other Brothers reveal the method and painstakingly teach the trick with numerous examples and alternate handlings. I thought it was a bit too long and could have been more to the point. The 42 minute downloadable video is shot from a video camera mounted on a tripod with the Other Brother's sitting on a couch. It is simple and straightforward. There are no performances to real spectators which is a shame.
The ad copy states:
"Hook your spectators from the very start with the most visual and surprising way to start a magic trick! Turn a pencil into a Sharpie, instantly! From the creators of Bare, Hands Down and SNAPPED, Maxwell's Signature Opener adds a new and surprising way to begin a magic trick. From those just beginning their journey into magic to the most experienced magicians, Maxwell's Signature Opener is a great addition to routines for magicians of all ages and experience levels. With one quick motion, you will be able to turn a pencil into a Sharpie and immediately hand it out for use in any signed card/bill trick. – Multiple methods taught, from simple switches to complex changes – Handmade gimmick with ink refill included – Ready to perform out of the box – No pulls, no magnets, no strings, no clothing restrictions – Add it to the routines you already perform!"
When I first saw this gimmick, I did not really love the trick. However, once I road tested it, it received very positive reactions. I changed my mind on the trick and will use this trick. This trick is well suited for social media and video clips.
Because of the way the gimmick is constructed, the ink in the Sharpie is not as long lasting as a regular Sharpie and you will have to make adjustments to your gimmick when performing this trick.
This is a fun way to add a layer of surprise to a trick that requires a spectator to use a Sharpie. Get them off balance with Maxwell and then knock em out with the follow-up trick.
This trick can be purchased at any Murphy's Magic online dealer. Thanks to Murphy's for asking me to review this trick.