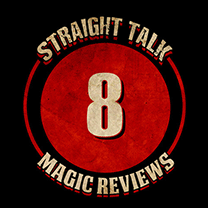 Wouldn't it be amazing if you could send a client a sealed envelope a week before a gig, then ask him to pick any word in any book from their house and then at the show reveal that the envelope you sent to the client contains yet another envelope with a billet inside and on that billet is the word they randomly and freely chose from their own book? Well, you can – and it is easy – all you need to do is pick up this small publication (approximately 12 pages) and you will be in the know.
Amira lays out a very clean and concise routine meant for a stage show, although I think it could also work in a parlor or close-up or small party setting. The plot described above is not new and in fact Amira credits Kenton Knepper, Max Maven, and Bob Cassidy.  I have seen many very similar routines.  Test Conditions Prediction is a 2012 release that is well organized and presented to the purchaser.  It comes with a script that is crucial to selling the effect and uses some basic mentalism methods.  While there are some typos and grammatical errors, it is not pervasive.  This may not be for an absolute beginner because it does not describe certain handling in detail, there are no pictures and is a bit lacking on a step-by-step.  These are not going to be issues for any magicians with experience.
There is an "Extra Ideas" section that suggest alternate methods for accomplishing the impossible and they are strong substitute methods for the routine, but they lack any detail whatsoever on how to use the alternate methods. Again, ok for magi with experience and not so much for beginners.
This routine is very easy to learn and will require a bit of practice with the scripting, which is provided, and a tiny bit of practice with a certain move else, but it is within reach of any beginner.
Trust me when I tell you that Test Conditions Predictions is a very strong mentalism routine that will be a great closer to any show and it will make the show great.
This killer routine is available for download at any internet Murphy's Magic outlet.