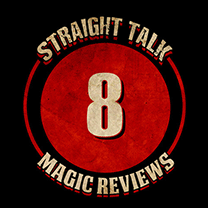 Three Why is Kainoa Harbottle's take on Three Fly. It is a cleverly staged routine that mixes humor, surprise and technical skill.   This one-routine DVD will run you 20 bucks.
The ad copy says " Kainoa on Coins brings you the best sleight-of-hand and presentations from the Big Kahuna of Coins himself, Kainoa Harbottle. This series provides you with step-by-step techniques from one of coin magic's greatest practitioners.
Follow along, and you too will be able to master some of the most magical and practical methods available today. Don't let anyone fool you: hard work always pays off.
Three Why
Most magicians just love Three Fly, but Kainoa is more concerned about the "why" — what is the difference between a "trick" and "magic?"
Using a clear presentation to provide a motivation for making coins travel from one hand to the other, Three Why also utilizes some of the most innovative techniques available.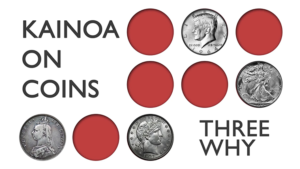 If you can master Three Why, then you can define what real magic is for all of your audiences."
Harbottle has made a name for himself as a coin master. On this DVD he presents his version of the Three Fly routine, but adds his own flair and patter.  The routine talks about the difference between tricks and real magic.
The DVD starts with two presentations of the routine; one in an empty restaurant for a couple at a small square table. This is less like a live performance and more like a studio performance to arranged spectators in a restaurant.  Harbottle follows up this quasi-live performance with a true studio performance.  You will need to supply your own coins and a gimmick to perform this routine.
The final track is the explanatory track taught by Harbottle. His teaching is excellent as is the camera work and editing by Kozmo Magic.  The routine is not for coin handling beginners and will require some work to be able to perform this routine fluidly.  Harbottle teaches you all the needed moves and sleights so all you need is the coins, gimmick, this DVD and a whole lot of practice time.  The close-ups on Harbottle's hands are well-done and it makes learning the routine as easy as possible – but that does not mean that you will be able to immediately perform the routine without some effort and practice.
I think this DVD in the Kainoa On Coins series is really good, but even at $20, I thought it was a tad overpriced for just one very quick routine. In my opinion, the DVD should have been five bucks cheaper.
If you want to start learning excellent coin magic and are up to the challenge, Kainoa On Coins has your name written all over it.
Thanks to Murphy's Magic for allowing me to review this product. Check out any Murphy's dealer for this DVD.