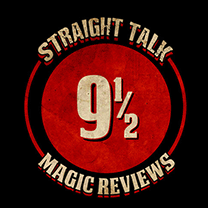 Signs by Manuel Llaser and Vernet Magic is a fantastic mentalism card routine in which three spectators are each handed a piece of paper with an illegible scribble on it. They are told that there is a "sign" within the scribble and the performer whispers to them what he believes it to be.  Then, as a designated spectator deals the cards face up, one at a time, the three other spectators with the paper, in turn, tell the dealer when to stop and that card is placed face down.  At the end, each spectator reveals the "clue" that they were told by the performer and it happens to be the name of a card.  Each clue matches one of the three face down cards.  And, as a mind-blowing kicker, each scrap of paper with the illegible scribble is held above a flame which causes the scribble to disappear and reveal the name of each card.  It is a superb routine for causal settings, stage or parlor.
With your $25 purchase you get a password protected downloadable instructional video that is 52 minutes long and taught by Manuel Llaser. You also get a special tool that enables you to perform the kicker ending.  Also included is a downloadable 4 page PDF that explains how to do the routine in the event that you prefer to learn by the written word.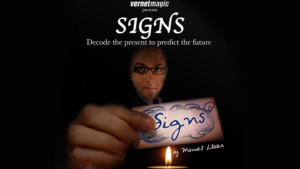 The instructional video is excellently shot and produced. It starts with a live 7 minute parlor performance of the routine with Llaser seated at a table with 3 spectators.  Then Llaser and another magician explain the routine and the steps behind this miracle.
The camera work and angles are excellent and the routine is not difficult to learn. Before performing however, one should do a test run the steps as there are a few places that a performer can falter and not be as smooth as he should be.  The main routine requires a bit of a set-up and a stack.  After this first version is fully explained, Llaser performs the trick with a borrowed and shuffled deck of cards and a cell phone.  In this version there are no scribbles and no pieces of paper, but you need to do a minor set up before performing.  This routine is fantastic like the first routine, but without the kicker ending.
The routine, as taught, requires that you are seated behind a table and as alluded to above, some practice is required, but not too much.
Signs is as fun to perform as it is amazing to your spectators. Llaser gets a huge "Ole" for this beautiful creation!
This stunner can be purchased at any Murphy's Magic Dealer!